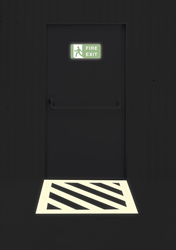 'Until now, photoluminescent marking tapes have all been the familiar off whitish color in the light. Superior Mark Glow is the first marking material that can be any color in normal day light and then when the lights go out, it will glow.' -Cliff Lowe
Wake Forest, NC (PRWEB) June 12, 2014
Stop-painting is thrilled to announce their newly designed Superior Mark Glow in the Dark Floor Tape. Like the original Superior Mark Floor Tape, the new Superior Mark Glow has beveled edges and recessed adhesive to ensure maximum durability. "Until now, photoluminescent marking tapes have all been the familiar off whitish color in the light. Superior Mark Glow is the first marking material that can be any color in normal day light (red, green, blue, yellow, hazard stripe, or even black) and then when the lights go out, it will glow. This is revolutionary as it allows facilities to use color coding systems that require multiple colors to demonstrate various safety meanings, and still have the advantage of being illuminated in case of sudden darkness", says InSite Solutions Managing Director Cliff Lowe. What makes the Glow in the Dark Superior Mark different from other glow in the dark tapes is that when the area is well-lit, the tape holds to its intended color rather than appearing an off-white color. When the light is removed from the environment, the tape glows to show safe areas and evacuation routes while performing to the high standard of the original Superior Mark Floor Tape.
Evacuation routes and safety markings are only as good as their visibility. In the years following 9/11, attention has been drawn to the lighting of exit routes and important areas in case of power outages or emergencies. The City of New York has even established new building codes requiring stairwells and the surrounding areas to be marked with a photoluminescent material that will emit light despite a lack of power or failure of backup system. In warehouses, safety is extremely important and the conditions in these warehouses are often dangerous without the proper lighting.
The Superior Mark Glow in the Dark Floor Tape is produced in a variety of colors. If a facility has certain standards for color-coding of areas, this tape serves both purposes: appropriate color in the light, and illuminated in the dark. A company with a plan involving color-coded areas would have no problem implementing the Glow in the Dark Floor Tape into the facility.
Stop-Painting.com is a part of InSite Solutions, the manufacturer of Superior Mark Floor Tape. InSite holds two patents in traffic marking materials, and offers a variety of traffic control and safety supplies on their ecommerce website, http://stop-painting.com.
Please visit Stop-Painting.com or call customer support at (919) 569-6765.