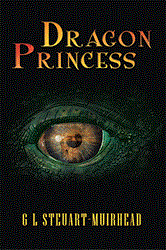 New Zealand (PRWEB) September 11, 2013
There will be darkness and a shaking of the earth. Lives will be lost and it will mark the beginning of the end. Armies on both sides of the mountains will be formed under the banner of treachery and they will fight and all will be lost. Evil will descend the lands for a thousand years. And all is not what is seems in the kingdom of Clanmeister.
Dragon Princess, a fantasy adventure novel written by author Grant Steuart-Muirhead tells the story of Marnie Struddle and Ants Clandermeister, two kids who seek to save their country from evil and the lies. The city of Clanmeister was destroyed and the day had disappeared as darkness befalls. Professor von Hamburger from the Clanmeister School said that it was the handiwork of the sorcerers of Schattlsburg. The king summons the most powerful wizards to protect what was left from the kingdom.
The king wanted the light back but they cannot give it to him. There is not a wizard who is that powerful to do what the king wishes. It will take all of the wizards' powers to defeat the darkness and they will never recover their strength and die. But the king is adamant and the wizards heed his call. Lightness was back but the wizards still didn't save Clanmeister. When Professor von Hamburger is designated as President, he ordered revenge on those who put the city into darkness by declaring war against Schlattsburg.
In the custody of Mad Margaret, Struddle and Ants discovered all the truth about their families as well as all the lies that have been happening in Clanmeister. The liars, the ignorant and the fools who now rule Clanmeister destroy history and hope to reinvent the truth. It is ruled by people who have no place to rule. Struddle and Ants must now go on a perilous journey to poisonous mountains, cross the paths of dragons and fight battles against insurmountable odds to save Clanmeister once and for all. Will they be able to do it and bring the truth? Or will lies continue to rule?
Dragon Princess takes readers into an enchanting adventure where Marnie and Ants discover some truths about themselves and the hidden lies within their own kingdom. An exhilarating read from beginning to end, this story challenges what everyone might have been taught and led to believe as it touches on real issues that faces the world today.
For more information on this book, log on to http://www.Xlibris.co.nz.
About the Author
Grant Steuart-Muirhead is an award winning teacher in New Zealand. For over 20 years, he has taught students from age 7 – 18 years. Regardless of age, Muirhead appreciates that everyone loves a good story. This is his first novel and one that should reach all those who love a good adventure and wonder if everything they are told is the truth. Grant is a teacher of history and economics. He lives with his wife Karin and two children in Wanganui, New Zealand.
Dragon Princess* by G L Steuart-Muirhead
Publication Date: August 1, 2013
Trade Paperback; $34.99; 167 pages; 978-1-4836-7315-8
eBook; $3.99; 978-1-4836-7316-5
Members of the media who wish to review this book may request a complimentary paperback copy by contacting the publisher at 0800-443-678. To purchase copies of the book for resale, please fax Xlibris at (09) 353-1455 or call 0800-443-678.
For more information, contact Xlibris at 0800-443-678 or on the web at http://www.Xlibris.co.nz.