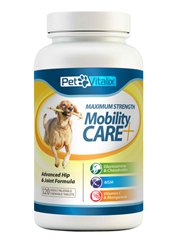 Thanks to this newly-released and high quality joint supplement, arthritis in dogs is now treatable
Las Vegas, NV (PRWEB) May 01, 2014
PetVitalix, a company that is dedicated to providing pet owners with top quality pet health supplements, is now carrying an all-natural glucosamine for dogs product called Mobility CARE+.
"Thanks to this newly released and high-quality joint supplement, arthritis in dogs is now treatable," a company spokesperson said, adding that the supplement is made in the U.S.A. and is recommended by veterinarians as a maximum strength and all-natural way to help rebuild damaged cartilage and relieve pain in sore dog joints.
As one of the top dog joint supplements that is currently on the market, Mobility CARE+ is designed to help with a dog's joint function and alleviate the painful symptoms of arthritis. It does this by improving joint cushioning and mobility, maintaining the connective tissue health and muscle function, supporting cruciate ligament health, maintaining joint function and flexibility, and helping with joint tenderness that can come about during normal activities.
As dog owners know quite well, it can be distressing to watch their four-legged best friend suffer. Seeing a once-energetic pooch decline into a less active dog with arthritis is incredibly difficult—for both the owner and the dog. Thanks to the new dog supplements from PetVitalix, people now have an option to costly and possibly dangerous canine arthritis medications.
"Joint supplements for dogs are beneficial for retired or geriatric dogs, puppies or sporting canines, pets recuperating from accidents, pets with a special demand for joint care or pets that are predisposed to connective tissue, osteoarthritis or joint stress," the company spokesperson noted, adding that Mobility CARE+ is a highly palatable chewable tablet that dogs readily accept.
In addition to providing 750 mg of Glucosamine, 400 mg of Chondroitin Sulfate, 100 mg of Vitamin C and 5 mg Manganese, the natural formula also contains 400 mg of MSM for dogs. As a bonus, the spokesperson said, Mobility CARE+ is the only glucosamine/chondroitin sulfate formula for dogs that comes with a 100 percent, no hassle, "See Your Dog Healed or It's Free" money back guarantee.
Anybody who would like to learn more about Mobility CARE+ is welcome to visit the PetVitalix website; there, they can read about the top-quality dog joint supplement, as well as the other products that the company carries.
About PetVitalix:
PetVitalix was created with a simple goal in mind: to bring pet owners rigorously researched, high-quality, and easy to administer pet health supplements that may be incorporated into daily diet regimens. PetVitalix is very proud of the purity and effectiveness of their dog joint supplements. All products are made in the U.S.A. and are manufactured in National Animal Supplement Council (NASC) certified facilities for quality, integrity and truth in labeling to help pets live healthier lives. For more information, please visit http://www.petvitalix.com/.