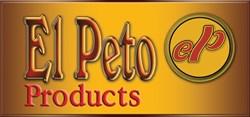 Toronto, Ontario (PRWEB) August 19, 2013
The Gluten-Free Certification Program (GFCP) and the Canadian Celiac Association are pleased to announce that El Peto Products Ltd. has become one of the growing number of GFCP-certified companies that have recently introduced a line of newly certified gluten-free products across Canada. With an average of 1700 new gluten-free products coming to market annually in North America, the use of a certification program defining the production requirements for safe gluten-free products has become a necessity for consumer safety. The display of the GFCP trademark on El Peto branded products ensures that consumers can shop for a trusted and easily identifiable source of safe gluten-free products.
The Gluten-Free Certification Program is a voluntary program designed for manufacturers and brand owners committed to producing safe, reliable gluten-free products. The program combines stringent, risk-based gluten-free requirements with globally recognized food safety management systems which exceed government requirements in both Canada and the United States. It is verified by an annual robust, third-party facility audit process which ensures continued compliance. Consumers can now shop with confidence across North America and know that the products they are purchasing meet the industry's strictest gluten-free requirements when they see the GFCP trademark.
Handcrafted products, European flavour systems, wholesome ingredients prepared in a 100% gluten-free and 100% peanut-free facility, provide a recipe for success for El Peto Products Ltd. With a proprietary mill and bakery department, El Peto ingredients and formulations consider a variety of diets such as: Celiac Disease, Autism, food allergies and other related diseases. The product line is broad and it includes breads, tarts, muffins, cereals, mixes, baking supplies, grains and flours. Known as the gluten-free experts, El Peto brand can be found in major retail chains and/or can be purchased online at http://www.elpeto.com
About the Gluten-Free Certification Program
The Gluten-Free Certification Program (GFCP) was developed so consumers can shop with confidence by selecting those safe, reliable and gluten-free products displaying the GFCP trademark. It is endorsed by the National Foundation for Celiac Awareness and the Canadian Celiac Association.
The GFCP is a voluntary certification program designed to help brand owners to differentiate their gluten-free products from the increasing clutter of those with gluten-free claims. Instead of relying upon end-product testing, the Gluten-Free Certification Program is based on a management system approach that requires facilities to integrate a framework of policies and procedures to ensure that they are consistently producing safe, reliable gluten-free products. This approach provides an additional level of assurance benefiting manufacturers and brand owners by reducing their risk and also facilitates increased access to the growing gluten-free market. http://www.glutenfreecertification.ca/
About the Canadian Celiac Association (CCA)
The Canadian Celiac Association is the national voice for people who are adversely affected by gluten, and is dedicated to improving diagnosis and quality of life. Based in Mississauga, Ontario with 28 Chapters across the country, its mission includes advocacy, education, research and community support. http://www.celiac.ca
About El Peto Products
El Peto Products Ltd. is the pioneer and expert in gluten free manufacturing and gluten free distribution with over 24 years in business helping people with Celiac Disease and other related diseases. The facility is dedicated 100% gluten-free and 100% peanut free, federally inspected and recently awarded the Gluten-Free Certification Program mark, as well as certified HACPP. http://www.elpeto.com