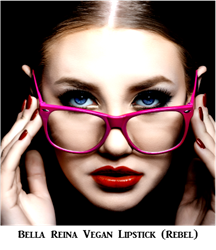 to create a simple, natural cosmetics
Delray Beach, FL (PRWEB) August 19, 2015
Fall Fashion Week 2015 is coming and Bella Reina Cosmetics is ready with Rebel, a maple red Vegan Lipstick. One of the premiere products of this nouveau makeup line, this lipstick is anything but dull. With a major pigment payoff that keeps lips in fashion, Rebel will be a hit this season.
This cosmetics line recently has caught the attention of makeup artists and bloggers. On Instagram the hashtag #imarebel was started by Hanna Lei, a blogger and model.
In addition the media has started to notice with a national magazine cover and numerous morning talk shows.
One of the many trademarks of Bella Reina's lipstick is that it is vegan and gluen-free; and, it is also chemical-free. Gluten-free lipsticks are free from wheat, rye, barley and other hybrid grains. Lipsticks that contain gluten can trigger health issues and attacks in those with celiac and gluten sensitivities.
The development of Bella Reina Cosmetics began in the spa treatment room. Nancy Reagan, a master esthetician and owner of Bella Reina, wanted to create a skin-friendly cosmetic line that spoke to women's inner and outer beauty. Said Reagan, "I saw some of the most beautiful women that felt ugly. I wanted to create simple, natural cosmetics that could be applied in seconds but spoke to every woman's inner queen." Bella Reina which means "beautiful queen" in Spanish is the ongoing inspiration for the line.
The vegan lipstick had to be gluten-free as Reagan has gluten issues. The creamy lipsticks are crafted with botanical extracts, organic oils and pure mineral pigments. In addition to being gluten-free, the lipsticks are petroleum-free and bee-free. For more information on vegan lipstick, head over to Mi Bella Reina to see Rebel (Red) for yourself.
About Bella Reina: Bella Reina is the leading spa provider and definitive authority on luxury beauty, wellness, and spa treatments. Bella Reina was created by Nancy Reagan, a nationally recognized expert in beauty, skin care, and makeup. Nancy and Bella Reina Spa have been featured in the New York Times, Beauty High, Daily Makeover, WebMD, and Les Nouvelles Esthetique for beauty, spa industry and business expertise. To learn more about how Bella Reina is constantly innovating both spa services, spa series and shopping for beauty, please visit BellaReinaSpa.com or MiBellaReina.com.