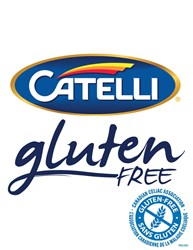 The GFCP program supports Canadians' right to safe food, and hence, Catelli's participation in the Gluten-Free Certification Program to meet those assurance needs.
Toronto, Ontario (PRWEB) October 31, 2013
The Gluten-Free Certification Program (GFCP) in partnership with the Canadian Celiac Association are proud to announce that Catelli Foods Corporation has been certified by the GFCP for its new Catelli® Gluten Free Spaghetti, Fusilli and Penne pasta cuts. This first-of-its-kind line of gluten-free pasta products will soon be seen bearing the GFCP trademark.
"As Canada's largest pasta manufacturer, Catelli is a trusted brand and with the growing demand for gluten free products, this certification gives consumers an added level of assurance that the same quality and standards are being applied to the new gluten free line as have always been applied to all of Catelli pasta products," says Paul Valder, president of the GFCP. "The GFCP program supports Canadians' right to safe food, and hence, Catelli's participation in the Gluten-Free Certification Program to meet those assurance needs."
For the gluten-free consumer, pasta is the perfect foundation for a healthy, delicious and satisfying meal. As an ideal "delivery system" for other nutritious foods, gluten-free pasta meals can easily become nutritional all-stars. Catelli Gluten Free pastas are low in sodium and a source of fibre. Along with being wheat-free, cholesterol-free and without preservatives, this pasta is easy to digest and has a delicious taste and smooth texture. When paired with fibre-filled vegetables and beans, heart healthy fish and oils, antioxidant-rich tomato sauce and protein-packed, poultry and lean meats, consumer's eating gluten-free are at less risk of not meeting their nutritional needs.
About the Gluten-Free Certification Program
The Gluten-Free Certification Program (GFCP) was developed so consumers can shop with confidence by selecting those safe, reliable and gluten-free products displaying the GFCP trademark and is endorsed by the National Foundation for Celiac Awareness and the Canadian Celiac Association.
The GFCP is a voluntary certification program designed to help brand owners to differentiate their gluten-free products from the increasing clutter of gluten-free claims, by displaying the GFCP trademark. This is based on a robust third-party audit certification process at the manufacturing facility, which verifies their ability to regularly meet the stringent GFCP requirements when managing gluten as part of their food safety programs.
About the Canadian Celiac Association (CCA)
The Canadian Celiac Association is the national voice for people who are adversely affected by gluten, and is dedicated to improving diagnosis and quality of life. Based in Mississauga, Ontario with 28 Chapters across the country, its mission includes advocacy, education, research and community support.
About Catelli Foods Corporation
Based in Montreal, Quebec, Catelli Foods Corporation is a subsidiary of Ebro Foods, S.A., a global leader in the rice sector and the second largest pasta manufacturer in the world. Based in Spain, Ebro Foods has commercial and/or industrial presence in more than 25 countries in Europe, North America, Asia and Africa. Along with the Catelli® brand of pasta products, Catelli Foods also offers Canadians a wide range of high quality, wholesome and affordable meal solutions through its Minute Rice® and Healthy Harvest® brands. For more information, refer to the company's website at http://www.catelli.ca.