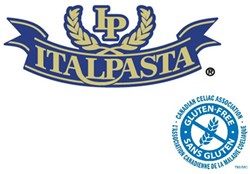 I am extremely proud of our recent GFCP certification and our strong commitment to providing delicious and safe food for the gluten-free community. Italpasta continues to be innovative in its approach to addressing consumer needs
Toronto, Ontario (PRWEB) October 31, 2013
The Gluten-Free Certification Program (GFCP) in partnership with the Canadian Celiac Association are proud to announce that Italpasta has been certified by the GFCP. The introduction of a line of gluten-free pasta products can now be found nationally at retail bearing the GFCP trademark of assurance.
Frank DeMichino, COO, Italpasta Limited stated, "I am extremely proud of our recent GFCP certification and our strong commitment to providing delicious and safe food for the gluten-free community. Italpasta continues to be innovative in its approach to addressing consumer needs but never at the expense of taste and safety."
The initial product line of Italpasta Gluten Free Penne Rigate, Spaghetti and Fusilli allow consumers electing or requiring a gluten-free diet to prepare their favourite pasta dishes. The Italpasta website has some wonderful gluten-free recipes that can be incorporated and adjusted with your family favourites http://www.italpasta.com.
"By displaying the GFCP trademark endorsed by the CCA, the Italpasta gluten-free brand provides consumers with a trusted and easily identifiable source of gluten-free products. The recent interest and growing demand for gluten-free products across all ethnic food types and the desire to continuously innovate fueled Italpasta's desire to obtain this quality certification," says Paul Valder, president of the GFCP. "The GFCP program supports Canadians' right to safe food, and hence, Italpasta's participation in the Gluten-Free Certification Program to meet those special needs."
About the Gluten-Free Certification Program
The Gluten-Free Certification Program (GFCP) was developed so consumers can shop with confidence by selecting those safe, reliable and gluten-free products displaying the GFCP trademark and is endorsed by the National Foundation for Celiac Awareness and the Canadian Celiac Association.
The GFCP is a voluntary certification program designed to help brand owners to differentiate their gluten-free products from the increasing clutter of gluten-free claims, by displaying the GFCP endorsed trademark. The GFCP is also based on a robust third-party audit certification process at the manufacturing facility, which verifies their ability to regularly meet the stringent GFCP requirements, when managing gluten as part of their food safety programs. http://www.glutenfreecertification.ca
About the Canadian Celiac Association (CCA)
The Canadian Celiac Association is the national voice for people who are adversely affected by gluten, and is dedicated to improving diagnosis and quality of life. Based in Mississauga, Ontario with 28 Chapters across the country, its mission includes advocacy, education, research and community support. http://www.celiac.ca
About Italpasta Limited
Italpasta Limited was founded in 1989 by Joseph Vitale. Thanks to a dedicated team, Italpasta is sold across the country and is a leader in the food service and private label sectors. Located in Brampton, Ontario, Italpasta also produces its high quality pasta for global markets including the United States, the Caribbean, the Philippines, and Asia. The company employs 300 people, including ten "pastaios" – pasta specialists with a long tradition in their craft. The "pastificio" – the pasta manufacturing plant, is over 230,000 sq. ft. in size and is complimented by its own distribution centre that covers 300,000 sq. ft. with 20 receiving bays. http://www.italpasta.com