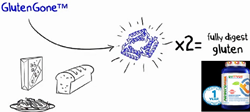 Beverly Hills, CA (PRWEB) April 02, 2014
HealthNutritionNews.org has revealed a new video giving relief to an estimated fifteen perecent of the population that unknowingly suffer from a gluten sensitivity. Currently there are no medical tests available to detect this intolerance but anyone who experiences fatigue after eating, digestive tract issues, headaches, anxiety, or joint pain could be suffering from it. Health Nutrition News explains that this occurs when the body has difficulty digesting gluten due to a lack of enzyme production. However, through gluten pill supplementation and proper enzyme replenishment a person can reverse the effects of a gluten sensitivity.
In the video, Health Nutrition News educates the viewers on digestive enzymes which are proteins secreted by the organs in the body to breakdown large macronutrients (carbohydrates, proteins and fats) to be easily digested. Afterwards, the body utilizes what is now micronutrients for energy, metabolism, growth, and health. Consequently, the aforementioned gluten sensitive individuals have this process impaired and often leads to the lower energy levels, decreased immune function, and digestive tract issues mentioned earlier. HealthNutritionNews.org focuses on the solution which utilizes gluten enzyme pills in order to help the system digest gluten and absorb the appropriate nutrients and vitamins. These supplements will not only help with gluten digestion but also assist with breaking down fats, carbs, sugars, and other proteins.
Health Nutrition News points out what to look for in a gluten enzyme product for optimal health benefits and sensitivity reversal. At a minimum it should contain at least the four primary digestive enzymes lipase, protease/peptidase, amylase, and cellulose (more would be much better). Also, especially for facilitating the body's ability to digest gluten look specifically for the unique two enzyme blend GlutenGone. In the past the body had replenished its own supply of enzymes but it is now commonplace for individuals to experience an enzyme deficiency resulting in gluten sensitivities and ultimately celiac disease. HealthNutritionNew.org point out that when this occurs it puts added stress on the body's organs and results in a buildup of undigested foods leaving the body's gut flora completely out of whack.
A buildup of undigested foods disturbs the digestive system and further intensifies the many health issues listed earlier. In fact, studies have shown that those who have trouble digesting gluten inherently suffer from a poor ratio of good to bad bacteria. Dealing with a gluten sensitivity can be a daunting task but it can be accomplished and if some cases even reversed. To make it easier gluten digestive enzymes and probiotics are both good for short-term results and even better long-term results.
Health Nutrition News has published a free e-book that contains information on the damages caused by unhealthy gut bacteria ratios and how to restore it. It is available here: http://healthnutritionnews.org/healthy-gut-bacteria.