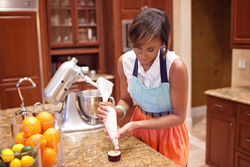 Creating a product that is completely free of gluten, tastes good and is free of cross contamination has proven tricky for most bakers
ORLANDO, FL (PRWEB) April 22, 2015
The Tasty Trend, a gourmet cupcake bakery enters the gluten-free market with an impressive array of flavors catering to the hospitality industry's growing consumer demand. Through the explosion of the packaged food industry's sales the gluten-free market continues to grow with impressive speed, leaving restaurants and hotels clambering to meet the growing demands of their dine-in clientele. In 2014 the gluten-free industry sales topped $8.8 billion, according to the market research firm Mintel. Savvy entrepreneurs such as The Tasty Trend are creating businesses to meet the demand of restaurants and hotels.
"Creating a product that is completely free of gluten, tastes good and is free of cross contamination is too tricky for most restaurants" says Andrea Collins, owner of The Tasty Trend. The Tasty Trend's bakery creates gourmet cupcakes in a completely gluten-free kitchen. It took the business over two years of research and development to perfect a gluten-free cupcake that tastes even more fabulous than a regular cupcake. "In addition to possible cross contamination, the higher cost of small batch gluten-free baking creates a solid benefit for our clients to purchase our cupcakes" says Andrea.
The Tasty Trend also developed a retail website to serve its retail clientele. The retail website offers all the gluten-free flavors conveniently shipped to the customers home or business. Looking ahead The Tasty Trend plans to offer allergy-friendly cupcakes free of the top eight allergens, milk, eggs, fish, shellfish, tree nuts, peanuts, wheat and soy.
Our goodness comes from the simple love for my child. As a mom with a child growing up allergic to all the ingredients in a store bought cupcake moved me to create delicious delights he could enjoy. The Tasty Trend was born over time to share with you his same love of our yummy cupcakes. We create delicious gluten-free cupcakes loved by allergy sufferers and all...one yummy bite at a time. To learn more about The Tasty Trend please contact Sharon Williams at 407.810.0468 You can find The Tasty Trend at http://www.thetastytrend.com.
###