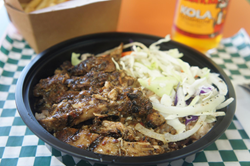 (PRWEB) February 25, 2014
Ena's Jerkmania, the go-to destination for Jamaican food in Springdale, Ohio, announced today the addition of four new jerk sauces that are gluten free. With the menu additions Ena's hopes to accommodate many who follow strict gluten free diets. According to The New York Times, 30 percent of the public says it would like to cut back on the amount of gluten it's eating. In its own town of Springdale, Ena's owners recognized this need and took steps to fill the void in its menu offerings.
In addition to the four new gluten free jerk sauces available gluten free customers may also chose from the following:

Jerk Chicken
Beef Brisket
Pork
Rice Bowl
Salad
Fresh Cut Fries
Fried Plantains
About Ena's Jerkmania:
Founded in September 2011, Ena's Jerkmania located in Springdale, Ohio, is the brainchild of Ms. Ena's sons Marlon and Ashford Hayles. This family owned and operated restaurant utilizes the increasing popular fast casual dining model providing customers with speedy, authentic, Jamaican Jerk cuisine. Marlon and Ashford opened Ena's Jerkmania to make premium Jerk fare readily available to the mass market. As the Ena's brand continues to expand, Marlon and Ashford are achieving their vision of solidifying Jamaican Jerk food as a top choice among ethnic cuisines. Ena's Jerkmania is the leading fast casual dining option for Jamaican food in Springdale, Ohio. The Ena's brand includes Ena's Caribbean Kitchen in Columbus, Ohio. For more information about the Ena's brand and Ena's Jerkmania visit http://www.thatsjerk.com.