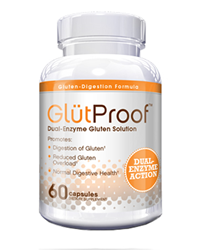 Enzyme Health Labs of Laguna Beach, CA believes they have found the ideal gluten solution
Laguna Beach, CA (PRWEB) December 08, 2014
Great news for the many millions of unsuspecting Americans who have undesirable reactions to gluten -- but find it impractical, if not Impossible, to go gluten-free.
"It's called gluten overload", says family physician, Dr. Marcela Dominguez, "our parents and grandparents didn't have the same problem since their wheat had more easily digestible strains of gluten. This was before the genetically engineered strains of "Frankenwheat" came about 30-40 years ago. What's more, this new super gluten has found its way into many more foods - such as hotdogs and luncheon meats, sauces and gravies, and even non-foods, such as toothpaste, lip balm and, of course, alcohol, such as beer and vodka – all can contain gluten. The problem is, our digestive system have not evolved fast enough to handle this seeming epidemic of gluten overload."
Enzyme Health Labs of Laguna Beach, CA believes they have found the ideal gluten solution, a unique dual enzyme pill that has shown the ability to attack the super "glue-like" gluten molecule from both the inside and outside, thus aiding in the faster and more complete breakdown and digestion of the toxic gluten particles, hopefully before they can further pollute your body and brain.
It's called GlütProof.
GlütProof is not to be confused with other so called "gluten blockers" on the market, such as DPP-IV enzymes. These are not dual protease enzymes, and therefore are incapable of dismantling the gnarly gluten molecule before it digs deeper into your bowels.
Pilot Study "Results Are In"
As new as GlütProof is, it even has a small but powerful clinical study demonstrating its remarkable ability to help reduce a myriad of normal (non-medical) symptoms typically attributed to undigested gluten.
Study details
Volunteers with no history of any medical history of stomach issues, such as Celiac Disease or Irritable Bowel Syndrome, were screened for a double-blind, placebo controlled trial after filling out a questionnaire listing many of the most common "normal" gluten-induced symptoms. These included stomach issues, such as occasional indigestion, bloating, gas, and irregular bowel movements. However, a number of so-called secondary symptoms were also quite common with the study respondents, such as food cravings, tiredness and even headaches.
Study results – Two Weeks
After taking either a placebo (sugar) pill or GlütProof, for a week, then crossing over to take the opposite pill for a week, subjects were then given the questionnaire again. Quite remarkably, even though the sample size was relatively small, the "effect-size" was astonishingly high. Bottom line, when the subjects were on the placebo pill their observations of improvement were very slight, typically explained by the so-called "placebo effect". However, the week that they were on GlütProof they experienced significant and noticeable improvements within just one week, including:
Reduction in..

Stomach pain, bloating and "rumbling" after meal
Hunger pains
Headaches
Food cravings
Improvements in..

Energy levels
Emptying of bowels
The company that is offering GlütProof is giving away a FREE bonus bottle of GlütProof with their Introductory Offer, which also includes a comprehensive "gluten solution" handbook that lays out both the many of sources of gluten in your diet and how to avoid them, including the hidden sources of gluten (including unsuspected restaurant foods), and 3 easy & simple steps to help neutralize the effects of gluten on your life.
With GlütProof, for many people pizza and pasta may be back on the menu!
GlütProof is now available via Enzyme Health Labs's website, http://www.glutproof.com