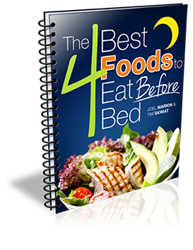 Boston, MA (PRWEB) November 01, 2013
A new video from Health Nutrition News explains how the glycemic index is a number that reflects how much of an impact a specific food will have on a person's blood sugar levels. Typically foods lower on the glycemic index will have less of an effect on blood sugar levels and are better choices for eating at night to avoid weight gain and to accelerate fat loss.
The video continues to explain how their is strong data to suggest that controlling blood sugar and managing insulin resistance is a strong safeguard against many health problems. Gaining a better understanding of the glycemic index and glycemic load of foods that they are consuming is a good first step in managing the dangers of high blood sugar.
There are several great choices of foods that can be eaten prior to bed that have minimal effect on blood sugar and can keep a person feeling full throughout the night while on a weight loss program. Health Nutrition News recommends a free report available that gives a comprehensive list of some of the top choices. This report is available here at http://healthnutritionnews.org/health-glycemic-index.
About: Health Nutrition News is a new health and wellness website with the goal of educating people on making better food choices to improve the quality of their life and overall health.