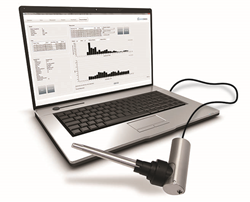 GlycoCheck is the only system available that specifically focuses on measuring and monitoring the endothelial glycocalyx. It's currently being used worldwide in more than 25 clinical studies.
Maastricht, The Netherlands (PRWEB) February 24, 2015
U.S.- based MicroVascular Health Solutions today announced its investment and collaboration with GlycoCheck B.V., the leading provider of imaging and measurement software of the endothelial glycocalyx layer.
MicroVascular Health Solutions will act as the global authorized distributor of GlycoCheck, a complete microvascular imaging solution that includes the patented GlycoCheck software installed on a software-optimized, medical-grade laptop computer and an intravital microscopic digital video camera with disposable sanitary tips. The technology measures and monitors changes in the glycocalyx layer non-invasively, accurately and in real time. The software provides a report and historical record of changes in glycocalyx function for each patient.
"GlycoCheck is the only system available that specifically focuses on measuring and monitoring the endothelial glycocalyx," said MicroVascular Health Solutions Chief Executive Officer Bob Long. "GlycoCheck is an complete integrated system allowing healthcare practitioners, hospitals and medical research institutions a unique and novel technology to monitor microvascular and glycocalyx health. The GlycoCheck software is the only of its kind in the world and can be used with other microscopic digital and analog video cameras currently available in the marketplace."
GlycoCheck is currently being used worldwide in more than 25 clinical studies that focus on the relationship of the endothelial glycocalyx and serious disease, including diabetes, kidney disease, cardiovascular disease, vascular dementia, preeclampsia and septic shock.
GlycoCheck was developed in The Netherlands at the Cardiovascular Research Institute of Maastricht University (CARIM) by Hans Vink, PhD and his team.
"The investment and collaboration with MicroVascular Health Solutions marks an important step in the commercialization of GlycoCheck technology," said Chief Valorisation Officer at Maastricht University Henri Theunissen, PhD. "This is an excellent way to make incredible use of our intellectual property. GlycoCheck has been awarded patents in the U.S., EU, China and Japan, with other patents pending."
"We're excited to continue our important work and collaboration with Maastricht University to commercialize and bring GlycoCheck to the public," said GlycoCheck Chief Science Officer and Managing Partner Hans Vink, Ph.D. "When we began collaborating with Bob Long nearly three years ago, we committed to joining forces in the fight for microvascular health. The synergy we've created with MicroVascular Health Solutions will ultimately lead to continued software improvement and camera imaging solutions."
In 2014 Long and Vink co-founded MicroVascular Health Solutions to commercialize the opportunities for GlycoCheck, and to develop therapeutic compounds to support the glycocalyx. MicroVascular Health Solutions published a new video on its website, MicroVascular.com, wherein Vink explains the role and function of endothelial glycocalyx.
About the Glycocalyx
Perhaps the most important system in the body, the microvascular system provides nutrients to organs and removes waste. Within every blood vessel is a naturally occurring, gel-like lining called the glycocalyx. This lining helps all blood vessels protect themselves from molecular structures sticking to the vessel wall within the normal range and plays a decisive role in the early stages of cardiovascular and a number of other diseases that arise when the glycocalyx deteriorates.
About GlycoCheck
GlycoCheck® Microvascular Health Monitor (MHM) is a complete imaging solution for screening patients' perfused boundary region (PBR) by measuring and monitoring changes in the PBR accurately and in real time. These changes correlate with the changes in the Glycocalyx layer. The measurement is performed non-invasively with a digital camera that is placed under the patient's tongue.
GlycoCheck B.V. is the leading provider of imaging solutions based on an innovative measurement system of the Glycocalyx layer. GlycoCheck solutions facilitate the accurate, reliable and non-invasive selection, detection and monitoring of patients in primary care, intensive care, cardiology and internal medicine. To learn more about GlycoCheck, visit GlycoCheck.com.
About MicroVascular Health Solutions
Founded in 2014, MicroVascular Health Solutions is dedicated to the well-being of the human microvascular system by supporting the health of the endothelial glycocalyx – the micro-thin lining of healthy blood vessels that serves as a defense against oxidants, fats and cholesterol. MicroVascular Health Solutions is the sole authorized distributor of GlycoCheck, a clinically validated medical device (digital microscopic camera) with software that enables monitoring and evaluation of the overall strength and dimension of the glycocalyx. For more information, visit MicroVascular.com.
*FDA Disclaimer: These statements have not been evaluated by the Food and Drug Administration. This product is not intended to diagnose, treat, cure or prevent any disease.