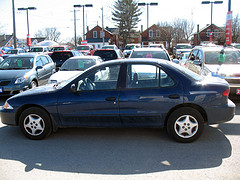 An OEM engine control unit is often restricted for retail sale through auto parts stores and must be purchased through an authorized GM dealership
Chicago, IL (PRWEB) April 07, 2015
Auto manufacturing now includes the installation of programmed computer systems that are used to control engines, transmissions, emissions and brakes inside import and American vehicles. The Car Parts Locator company is now offering its used inventory of GM control modules for trucks, SUVs and cars to consumers online at http://www.carpartslocator.com/used-gm-engine-control-module.
The modules that are currently for sale are second hand builds that have been acquired through relationships with auto salvage dealers. The General Motors PCM and ECU inventory in stock is designed for installation in brands such as Chevy, Buick, Oldsmobile, Pontiac and Saturn. Every used condition powertrain control module is currently available to ship nationally.
"An OEM engine control unit is often restricted for retail sale through auto parts stores and must be purchased through an authorized GM dealership," said one Car Parts Locator source.
The spare parts inventory of computer modules that are now shipping to U.S. components buyers this year does come with a lengthy period of warranty protection. Since modules usually need to be professionally programmed before installation, a components warranty provides additional protection to delicate parts inside of the ECU or PCM modules.
"Most vehicles that have been manufactured by GM after the year 1985 include one or more modules inside that must be replaced to ensure motors and transmissions work as intended," said the source.
The Car Parts Locator website has been upgraded this month with additional second hand inventory for Ford Motor Company and Chrysler vehicles. Aside from the ECU builds in stock, a person now has the option of exploring taillights and replacement hoods for almost every make or model motor vehicle.
About CarPartsLocator.com
The CarPartsLocator.com company offers one of the most resourceful automotive websites that average adults can use daily to locate replacement auto components. The company has connected its public portal with secondary suppliers nationally. The CarPartsLocator.com company helps consumers to find needed components without waiting in long lines in automotive parts stores.