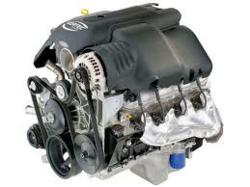 Each unit that is now built and tested prior to sale is attached with an unlimited mileage protection warranty.
Altoona, PA (PRWEB) July 09, 2013
General Motors vehicles are known in the auto industry for performance, reliability and engine longevity. Vehicle owners faced with the decision to replace a motor in a GM vehicle can now use the CrateEngines.co resource to find available inventory. This company is now offering rebuilt GM crate engine inventory at http://www.crateengines.co/gm-engines/gm-crate-motors-sale online.
These motors include I4, V6 and V8 units that represent the majority of units requested in North America.
"GM creates the largest portion of motors produced for the U.S. market," a source from the Crate Engines Co. said. The decision to recondition this brand of engines is based on consumer demand.
Because the company inventory spans a period of more than 30 years, engine types for older vehicles can be problematic for owners of vehicles to find depending on retailers for replacement stock. The offering of General Motors crate engines online now introduces the majority of engine families that are in and out of production.
The Vortec and Ecotec are two brands serving most of the engines requested," the source added. The procedures for rebuilding used motors have been in development for decades as new technologies are introduced to expedite the process. The CrateEngines.co company is one of few companies in the U.S. with a full-time staff of technicians rebuilding engines from GM and other automakers on a daily basis.
Because the procedures for building engines have been upgraded, warranty coverage for an extended time frame is now part of the offerings to consumers. Each unit that is now built and tested prior to sale is attached with an unlimited mileage protection warranty. This is offered to protect the majority of parts from wear during the ownership period. This protection is now extended to the General Motors units and existing automaker motors that are produced and distributed to consumers.
About CrateEngines.co
The CrateEngines.co company retails and distributes refurbished engines for American made vehicles. This company launched its business model for direct sale to engine trade industry buyers. Sale to consumers now takes place from the company website. A strategy of processing engine orders immediately upon submission has helped this company make faster engine deliveries in the U.S. The CrateEngines.co company quotes engine pricing through its online portal and toll-free customer service line. These methods combined with low pricing are responsible for 2013 sales volume increases for in stock motors.