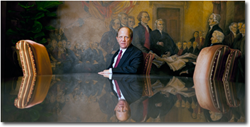 St. Louis, MO (PRWEB) September 18, 2014
The death toll for GM injury claims rose this week when General Motors provided its first count resulting from its faulty ignition switch since the company's compensation fund was established in June. According to a September 15 article in the New York Times, Kenneth Feinberg has approved 19 death claims to date.* Attorneys handling GM injury and death lawsuits for The Onder Law Firm provide timely GM lawsuit news updates at GMInjuryLawsuitCenter.com.
Monday's announcement is the first since the company initially acknowledged 13 deaths linked to the ignition switch defect in early 2014, according to the NY Times. And this news represents the first official news from Kenneth Feinberg since he began reviewing GM injury and death claims for eligibility with the ignition switch compensation fund. According to the article, the company has received a total of 445 claims in the first six weeks the fund has been open for claims, including 125 death claims. More than 100 death claims are still under review, according to the article.
Of the remaining 320 GM injury claims, lawyers for the ignition injury fund reported that 58 were filed for serious injuries including paralysis, double amputation, brain injuries, or severe burns, according to the article. Only four of these have been found eligible to date. Of the claims filed for lesser ignition injuries, eight have been deemed eligible by the GM ignition compensation fund.
Individuals and families who filed claims through the GM compensation fund must waive their right to file GM injury lawsuits against the company should they accept compensation money through the fund. In addition to the cases filed through the compensation fund, individuals and families have begun to file GM injury lawsuits throughout the nation. One such GM ignition injury lawsuit was filed in the City of St. Louis on August 20, 2014 by and on behalf of Missouri residents who were harmed and killed in vehicles with faulty ignition switches. The lawsuit, Skyesha Felix et al v. General Motors, LLC, Case No. 1422-CC09472 in St. Louis City Circuit Court, was filed by and on behalf of over fifteen plaintiffs who were each injured or killed in a GM vehicle that was later subject to the ignition recall, according to court documents. Trial by jury has been scheduled for July 6, 2015, according to court documents. In theory, the plaintiffs may also have filed claims with the GM ignition compensation fund – but they must ultimately choose to pursue one of these means of compensation.
Attorneys handling GM ignition lawsuit claims nationwide believe that individuals and the family members of persons harmed in a GM vehicle that was later recalled for an ignition switch defect may be entitled to real compensation through submitting a GM injury lawsuit. Lawyers handling GM lawsuits provide no-obligation case reviews to individuals and families to determine if they have grounds for a GM injury lawsuit. The GM Injury Lawsuit Center website provides timely ignition lawsuit news updates and information at GMInjuryLawsuitCenter.com.
The Onder Law Firm welcomes GM Ignition Injury Lawsuit inquiries from law firms in regards to handling them or working as co-counsel.
About The Onder Law Firm
Onder, Shelton, O'Leary & Peterson, LLC is a St. Louis based personal injury law firm handling serious injury and death claims across the country. Its mission is the pursuit of justice, no matter how complex the case or strenuous the effort. The consumer and family litigators at The Onder Law Firm have represented thousands of Americans in lawsuits against multinational conglomerates from products liability for manufacture of defective or dangerous products to deceptive advertising practices. Other firms throughout the nation often seek its experience and expertise on complex litigation. It is also a recognized leader in products liability cases such as window blind cord strangulation. The Onder Law Firm offers information from lawyers handling GM injury lawsuits at http://www.gminjurylawsuitcenter.com.
*nytimes.com/2014/09/16/business/number-of-victims-eligible-for-gm-payouts-reaches-19.html?_r=0