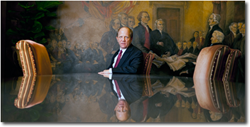 St. Louis, MO (PRWEB) October 30, 2014
The GM ignition switch defect compensation fund announced that a thirtieth death claim has been approved, according to an article by Reuters.* The compensation fund, which is being directed by Kenneth Feinberg, was established to provide compensation for persons who were injured or killed as a result of the GM ignition switch defect.
The fund releases an official weekly tally of approved death and injury claims, available on the fund's website.** This week's announcement increased the death total by only one, up from 29 last week. Still, the current number is well over the original total of 13 deaths acknowledged by General Motors prior to the launch of the fund.***
"Based on the number of vehicles that featured the faulty part, the original number of deaths acknowledged by GM was unrealistic. Slowly but surely, more people are coming forward as they connect the dots between the loss of their loved one and GM's major recalls this year. Whether they choose to file a GM death lawsuit or accept compensation through the official fund, families harmed by GM's dangerous ignition switch deserve justice," said Jim Onder of the Onder Law Firm.
More than half way into the five-month claims period, the number of submitted claims is rising too. According to the Reuters piece, the program has received a total of 1,580 injury and death claims so far, compared to 1,517 a week ago. The total number of claims saw only a 4% increase during the past week, compared to a rise of 11% in the prior week. However, according to Reuter's, Feinberg noted that the influx of claims is often slow in the middle of a claims period.
The program's website states that claims for fatality that are approved by the compensation fund will receive at least $1 million. A total of $400 million has been tentatively earmarked for the fund, according to an official GM press release, though the fund is intentionally open-ended.*****
Attorneys representing clients in GM ignition recall lawsuits believe that individuals who were harmed in a GM vehicle later subject to the ignition recall may be eligible for real compensation through filing a GM injury lawsuit. Persons who believe they may qualify may not also accept money through the official compensation fund, according to the fund's website. If a claim is approved by the official program, the claimants must choose to accept the award or pursue separate litigation.
Around the country, many are opting to file GM lawsuits for death and injury claims. One GM injury lawsuit has been filed by a group of fifteen plaintiffs in the City of St. Louis.**** The plaintiffs include persons who were injured in GM vehicles and families whose loved one died in a GM accident. Each of these accidents occurred in a vehicle that was recalled for the defective ignition switch.
Lawyers handling GM death claims believe that persons and the family members of persons who were harmed or killed in a recalled GM vehicle may be entitled to real compensation. The firm offers no-cost, no-obligation GM injury lawsuit case review through its GM Injury Lawsuit Center website. For updates on GM ignition lawsuit news and recall compensation information, visit GMInjuryLawsuitCenter.com.
The Onder Law Firm welcomes GM Ignition Injury Lawsuit inquiries from law firms in regards to handling them or working as co-counsel.
About The Onder Law Firm
Onder, Shelton, O'Leary & Peterson, LLC is a St. Louis based personal injury law firm handling serious injury and death claims across the country. Its mission is the pursuit of justice, no matter how complex the case or strenuous the effort. The consumer and family litigators at The Onder Law Firm have represented thousands of Americans in lawsuits against multinational conglomerates from products liability for manufacture of defective or dangerous products to deceptive advertising practices. Other firms throughout the nation often seek its experience and expertise on complex litigation. It is also a recognized leader in products liability cases such as window blind cord strangulation. The Onder Law Firm offers information from lawyers handling GM injury lawsuits at http://www.gminjurylawsuitcenter.com.
*Reuters, 10/27/2014, reuters.com/article/2014/10/27/us-gm-recall-fund-idUSKBN0IG1M820141027
**GM Ignition Compensation Claims Resolution Facility, 10/29/14, gmignitioncompensation.com
***Detroit Free Press, 8/25/2014, freep.com/article/20140825/BUSINESS0101/308250200/GM-ignition-switch-recall-Ken-Feinberg
**** Skyesha Felix et al v. General Motors, LLC, Case No. 1422-CC09472 in St. Louis City Circuit Court, August 20, 2014
***General Motors, 7/24/2014, media.gm.com/media/us/en/gm/news.detail.html/content/Pages/news/us/en/2014/Jul/0724-earnings-release.html