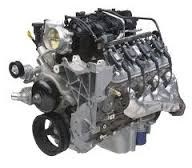 General Motors is the top automaker in the world and is known just as much for its contributions to the vehicle industry as it is for its engines quality
Madison, Wisconsin (PRWEB) September 13, 2013
The General Motors company is known for its development and marketing for automotive engines in the global marketplace. The Got Engines company sells used motors online and is now announcing a GM engines sale for V6 and V8 units at http://www.gotengines.com/blog/chevy-engines/chevy-silverado-engines.
These units are part of the inventory that has been acquired to this year to expand the truck and SUV inventory offered. Chevrolet brands like the Silverado are now represented in the V6 and V8 series motors for sale online. These offerings include the GMC variants that are frequently shared across the GM family in North America.
"General Motors is the top automaker in the world and is known just as much for its contributions to the vehicle industry as it is for its engines quality," a salesman for the Got Engines company said.
The V8 and V6 units that are now reduced for faster online sale have been selected for specific mileage counts. A standard used engine found online can easily exceed a high mileage point. A vehicle owner or mechanic seeking a lower mileage edition can benefit from the preowned condition engines now supplied online.
One incentive to go with the price changes now announced is the warranty policy for buyers. A new coverage arrangement has been created and is included for each sale processed by the Got Engines company. A limited policy with up to 24 months of parts and components coverage is offered alongside the price changes reported online.
"The search tools we're now offering online give access to the sale pricing, warranty terms and shipment programs in place to help all engine buyers make smarter decisions when researching used engines," the salesman included.
The reduced price GM engines for sale are part of the General Motors acquisitions undertaken this year. Units for the Chevrolet series in 4-cylinder builds were added in the spring of this year to expand the passenger car inventory that is now promoted to the public.
About GotEngines.com
The GotEngines.com company retails used engines from its website online and national distribution center in North America. This company provides Chevrolet, Dodge, Ford, Toyota, Honda and other engine types for below retail prices. Developments to the company website have made the GotEngines.com resource one of the largest on the secondary market. Engine pricing, shipping information and other incentives that are created as company policies for consumers can be researched online. All updates to the company search tools listed online take place daily to provide a complete resource.