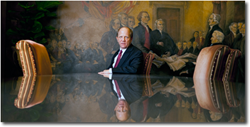 No amount of money can compensate families effectively for the loss of loved one, but the threat of GM ignition recall lawsuits may help to prevent similar incidents in the future.
St. Louis, MO (PRWEB) July 17, 2014
The latest event in the GM ignition recall is taking place today in the nation's capital as GM officials testify before a U.S. Senate subcommittee.
According to the U.S. Senate website, the Subcommittee on Consumer Protection, Product Safety, and Insurance (a branch of the Senate Committee on Commerce, Science and Transportation) is hearing testimony from General Motors officials and others involves in the company's response to ignition injury lawsuits, including Michael Milliken, chief council; Mary Barra, CEO; Kenneth Feinberg, the compensation expert handling the GM ignition recall compensation fund; Anton Valukas, legal counsel; and Rodney O'Neal, CEO and President of auto parts manufacturer Delphi Automotive. The hearing, SR-253, is entitled "Examining Accountability and Corporate Culture in Wake of the GM Recalls." Overseen by Sen. Claire McCaskill, the hearing is intended to examine "purposeful concealment and cover-up" and "possible criminal action" as related to the discovery of GM ignition defect and ignition recall.*
This subcommittee held a hearing in April of 2014, also on the subject of the GM ignition recall and response to ignition injuries and deaths. Today's hearing will examine new information that has emerged since the April hearing, according to the Senate subcommittee's website. Specifically, senators will be questioning the assembled witnesses on the extensive internal report of the GM ignition recall that was conducted by Anton Valukas entitled "Report to Board of Directors of General Motors Company Regarding Ignition Switch Recalls" and on GM's ignition injury compensation fund, which was announced on June 30, 2014 as a means to provide compensation for some accident victims without needing to file GM ignition recall lawsuits.
A July 17, 2014 article in the New York Times** provided early analysis of the Senate hearing. Numerous senators questioned the witness panel about the corporate culture at GM. Senator McCaskill pointed out that Michael Milliken's "staff fought lawsuits by accident victims at the same time G.M. engineers were trying to discover the cause of the ignition switch failures." According to the article, legal representation for General Motors resisted GM injury lawsuits "for years despite knowing that company engineers and investigators were aware of safety issues."
The GM ignition recalls began in February of 2014, when General Motors recalled 2.6 million vehicles related to ignition switch defects, according to a June 16, 2014 article in the New York Times.*** Since that time, the total number of vehicles affected by the GM ignition recalls has reached around 6.5 million vehicles, according to the article. The GM ignition recalls have been issued due to design flaws in the ignition switch itself, as well as the keys manufactured for these vehicles. The ignition system defects, according to the New York Times, can cause the affected vehicles to suddenly lose engine power, resulting in air bag failure. The long string of GM ignition recalls, which now affect nine different models, indicate that "G.M.'s ignition troubles are rampant throughout its product lineup", according to the news piece.
The vehicles affected by the GM ignition recalls are not recent models, but date from the years 2005 – 2010. In some cases, the NY Times reported, it took the company as long as eleven years to issue recalls to correct the ignition safety problems. For this, GM has been the subject of numerous governmental and internal investigations, the most recent of which is today's Senate subcommittee hearing. Today's hearing will address GM's internal report of the ignition recall, which, according to the Times piece, revealed the company to be "rife with 'organizational dysfunction'". The company has announced the dismissal of 15 employees since publishing the ignition recall investigation report.
Attorneys handling GM injury lawsuits believe that individuals and the family members of persons harmed in crashes in a car that was recalled by GM may be entitled to real compensation for their losses by filing a GM injury lawsuit. In many instances, cases related to a common defect or recall join forces as a Multi-District Litigation (MDL), allowing similar claims to share discovery and otherwise accelerate a resolution. So far, a number of individual GM injury lawsuits have been filed, but no movement has been made toward MDL.
Lawyers handling GM recall lawsuits nationwide maintain the GM Injury Lawsuit Center website, which provides timely GM ignition recall lawsuit news updates and resources at GMInjuryLawsuitCenter.com. Individuals and the family members of individuals who were harmed in a vehicle that has since been subject to the GM ignition recall may qualify to file a GM injury lawsuit for damages.
No amount of money can compensate families effectively for the loss of loved one, but the threat of GM ignition recall lawsuits may help to prevent similar incidents in the future. In some cases, the financial strain of large settlements may prompt a company to become a better corporate citizen. Lawyers handling GM ignition injury lawsuit claims nationwide announce no-cost, no-obligation case review to persons or family members of those who were harmed in a vehicle that has been recalled by GM for ignition problems. To receive a GM ignition recall case review with an experienced attorney, contact the firm via its GM Injury Lawsuit Center website.
The Onder Law Firm welcomes GM ignition injury lawsuit inquiries from law firms in regards to handling them or working as co-counsel.
About The Onder Law Firm
Onder, Shelton, O'Leary & Peterson, LLC is a St. Louis based personal injury law firm handling serious injury and death claims across the country. Its mission is the pursuit of justice, no matter how complex the case or strenuous the effort. The consumer and family litigators at The Onder Law Firm have represented thousands of Americans in lawsuits against multinational conglomerates from products liability for manufacture of defective or dangerous products to deceptive advertising practices. Other firms throughout the nation often seek its experience and expertise on complex litigation. It is also a recognized leader in products liability cases such as window blind cord strangulation. The Onder Law Firm offers information from lawyers handling GM injury lawsuits at http://www.gminjurylawsuitcenter.com.
*Live feed: commerce.senate.gov/public/index.cfm?p=Hearings&ContentRecord_id=5885c075-9727-479d-9e88-15321a4b221e#hearingParticipants
**nytimes.com/2014/07/18/business/senate-hearing-on-general-motors.html
***nytimes.com/2014/06/17/business/gm-recalls-3-million-more-cars.html?_r=0