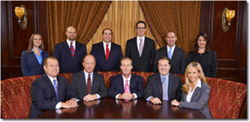 St. Louis, MO (PRWEB) December 23, 2014
General Motors-approved injury and death claims linked to GM's ignition switch defect recently reached a total of 100, according to an NBC News article.* GM injury claims that have been approved now total 58, while the approved GM ignition injury death claims toll is 42. In the past week, no claims received approval, but 104 were filed.* Attorneys handling national GM ignition switch recall lawsuits provide weekly news updates at their website, the GM Injury Lawsuit Center.
Prior to establishing the GM ignition switch recall compensation fund to provide compensation for GM ignition switch deaths and injuries out of court, the company acknowledged just 13 deaths linked to the defective part.** Now, 11 of those first 13 claims have been approved through the fund, in addition to 31 other GM ignition deaths.**
According to the compensation fund's website***, persons wishing to file a GM injury lawsuit may not accept compensation through the fund. Accepting compensation necessitates that an individual or family forfeit their right to pursue litigation. The window to submit claims to the GM injury fund is drawing to a close, with just over a month remaining until the fund concludes at the end of January, 2015.**
Meanwhile, persons and the family members of persons throughout the country who were harmed or lost a loved one in a recalled GM vehicle possibly as a result of the ignition switch defect have joined forces through a multidistrict litigation against General Motors, according to court documents.**** These GM injury lawsuits have been approved for consolidation by the Judicial Panel on Multidistrict Litigation (JPML), according to official court documents. The MDL, In Re: General Motors Llc Ignition Switch Litigation, MDL No. 2543, is in its early stages, according to court documents, and is still accepting new claims.
GM ignition switch lawsuits filed through the GM Lawsuit MDL include claims of two basic natures, according to court documents. The first type of ignition switch lawsuit includes those filed by or on behalf of persons who were harmed or killed in an accident in a General Motors vehicle that was recalled during 2014 for an ignition switch defect, according to court documents. The switch can inadvertently move from "On" to "Off" when the keys are bumped or the steering column is jostled, causing the driver to lose important safety mechanisms such as air bags, brakes and steering, according to court documents.
The second type of GM lawsuit included in the consolidated cases that make up the MDL include persons seeking class action status due to alleged economic losses stemming from the depreciation of recalled GM vehicles. Numerous cases have been filed around the nation to this affect, according to court documents.
GM ignition injury attorneys representing families in national GM injury claims believe that persons harmed in a General Motors vehicle that was recalled for a faulty ignition switch during 2014 may be entitled to real compensation by filing a GM injury lawsuit. Lawyers handling GM ignition lawsuits provide no-obligation case reviews to individuals and families.
The Onder Law Firm welcomes GM ignition injury lawsuit inquiries from law firms in regards to handling them or working as co-counsel.
About The Onder Law Firm
Onder, Shelton, O'Leary & Peterson, LLC is a St. Louis based personal injury law firm handling serious injury and death claims across the country. Its mission is the pursuit of justice, no matter how complex the case or strenuous the effort. The consumer and family litigators at The Onder Law Firm have represented thousands of Americans in lawsuits against multinational conglomerates from products liability for manufacture of defective or dangerous products to deceptive advertising practices. Other firms throughout the nation often seek its experience and expertise on complex litigation. It is also a recognized leader in products liability cases such as window blind cord strangulation. The Onder Law Firm offers information from lawyers handling GM injury lawsuits at http://www.gminjurylawsuitcenter.com.
*nbcnews.com/storyline/gm-recall/gm-faulty-ignition-switch-compensation-claims-rise-again-n273116, NBC News, 12/22/14
**detroitnews.com/story/business/autos/general-motors/2014/12/15/gm-compensation-fund-approves-new-death-claims/20430423/, Detroit News, 12/15/14
***gmignitioncompensation.com
****In Re: General Motors Llc Ignition Switch Litigation, MDL No. 2543, Southern District of New York