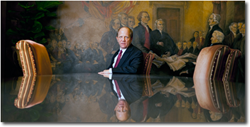 Persons and the family members of persons who were harmed or killed in a recalled GM vehicle may be entitled to real compensation through a GM injury lawsuit.
St. Louis, MO (PRWEB) August 31, 2014
The GM ignition switch compensation fund*, which opened on August 1, 2014, is entering its second month in operation. The fund was established in June of 2014 by General Motors as a means to compensate persons and families of persons who were harmed in vehicles recalled for ignition switch defects, according to the official GM Ignition Compensation Claims Resolution Facility website.* While the company has begun making accommodations for ignition injury compensation, according to court documents GM has invoked its 2009 bankruptcy** to protect it from class action lawsuits related to the recall. For updates on GM ignition lawsuit news and recall compensation information, visit the GM Injury Lawsuit Center at GMInjuryLawsuitCenter.com.
According to the GM ignition compensation fund website, Kenneth Feinberg, an attorney who has overseen several other major compensation funds including those for the September 11, 2001 attacks and the 2010 BP oil spill, is in charge of the fund. The fund will be open through the end of 2014. Feinberg is solely responsible for determining "eligibility to participate in the Program and the amounts awarded", according to the website.
So far, GM has publicly acknowledged only 13 ignition switch deaths, according to an August 26, 2014 Reuters article.*** New claims will be accepted through the compensation fund until the end of 2014, according to the official ignition fund website. Claims will be paid within 90-180 days after being "deemed substantially complete", according to the GM website.
The GM ignition recall was initially issued for 2.6 million GM vehicles, according to a May 18, 2014 article in the New York Times.**** Another 4 million vehicles were recalled for similar ignition problems in June of 2014. According to the NY Times, GM knew of the ignition defect more than a decade before the 2014 recall, according to the article. This realization has resulted in Senate committee hearings and a U.S. Justice Department investigation.
Announced during June of 2014, the GM ignition recall compensation fund is intended to be unlimited. However, in its second quarter earnings report released July 24, 2014, GM has indicated it expects to pay out $400-600 million in claims through the fund alone****, which does not include funds for separate GM injury and death lawsuits. Individuals and family members of individuals harmed in GM vehicles affected by the ignition switch defect may choose to file a claim through the compensation fund or file a GM injury lawsuit.
Attorneys handling GM injury claims believe that persons and the family members of persons who were harmed or killed in a recalled GM vehicle may be entitled to real compensation through a GM injury lawsuit. The firm offers no-cost, no-obligation GM injury lawsuit case reviews through its GM Injury Lawsuit Center website.
The Onder Law Firm welcomes GM Ignition Injury Lawsuit inquiries from law firms in regards to handling them or working as co-counsel.
About The Onder Law Firm
Onder, Shelton, O'Leary & Peterson, LLC is a St. Louis based personal injury law firm handling serious injury and death claims across the country. Its mission is the pursuit of justice, no matter how complex the case or strenuous the effort. The consumer and family litigators at The Onder Law Firm have represented thousands of Americans in lawsuits against multinational conglomerates from products liability for manufacture of defective or dangerous products to deceptive advertising practices. Other firms throughout the nation often seek its experience and expertise on complex litigation. It is also a recognized leader in products liability cases such as window blind cord strangulation. The Onder Law Firm offers information from lawyers handling GM injury lawsuits at http://www.gminjurylawsuitcenter.com.
*gmignitioncompensation.com/index
**In re General Motors Corp.", Case No. 09-50026, Southern District, Manhattan, New York
***reuters.com/article/2014/08/26/us-gm-recall-compensation-idUSKBN0GQ27220140826
****nytimes.com/interactive/2014/05/18/business/gms-ignition-problem-who-knew-what-when.html
*****media.gm.com/media/us/en/gm/news.detail.html/content/Pages/news/us/en/2014/Jul/0724-earnings-release.html