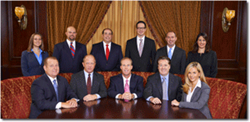 St. Louis, MO (PRWEB) November 25, 2014
One GM ignition lawsuit in U.S. District Court in New York has allegedly uncovered new evidence against GM in the form of an internal company email* from Delphi, the manufacturer of the faulty ignition part that is now the subject of extensive GM lawsuits. The email correspondence, which dates to 2005 when the first wave of cars featuring the faulty ignition switch were already being driven by consumers, indicates Delphi was "bullied" by the automotive giant. Lawyers handling national GM injury lawsuit claims provide timely news updates and no-cost, no-obligation GM lawsuit case review at GMInjuryLawsuitCenter.com.
The email correspondence, which was published and reported upon by the New York Times** on November 22, 2014, indicates that the parts manufacturer was pressured to continue manufacturing the faulty switch – and making improvements on it – even though the part did not and could not meet GM's safety standards.
According to the NY Times, GM was working to find a fix for the faulty part after learning in 2005 that the switch had been failing in consumers' vehicles. If jostled or inadvertently bumped, the switch can turn to the off position and cause a loss of power to the engine, disabling airbags and steering, according to the article. Alongside pending GM lawsuits, the automaker is accepting injury and death claims through its official GM Ignition Compensation Claims Resolution Facility.***
As of November 24, 2014, 133 lawsuits are pending as part of a multidistrict litigation against General Motors, according to court documents from the New York District Court. MDL 2543, known as General Motors LLC Ignition Switch Litigation, includes plaintiffs who were injured or lost a family member in a vehicle accident in a GM vehicle recalled for a defective ignition switch, according to official court documents. Together, the claims represent individuals and families seeking compensation "economic damages…stemming from an alleged defect in certain General Motors vehicles that causes the vehicle's ignition switch to move unintentionally from the "run" position to the "accessory"or "off" position, resulting in a loss of power, vehicle speed control, and braking, as well as a failure of the vehicle's airbags to deploy", according to court documents.
The case, which is still in the discovery stage, is being tried in U.S. District Court in the Southern District of New York under U.S. District Judge Jesse M. Furman. New cases originating around the country are being added routinely, including several in October, according to court documents. Attorneys representing individuals and families in GM ignition lawsuits believe that anyone who was injured or killed in an accident involving a recalled General Motors vehicle may be entitled to compensation through filing joining a General Motors MDL.
Lawyers handling GM death claims believe that persons and the family members of persons who were harmed or killed in a recalled GM vehicle may be entitled to real compensation. The firm offers no-cost, no-obligation GM injury lawsuit case review through its GM Injury Lawsuit Center website. For updates on GM ignition lawsuit news and recall compensation information, visit GMInjuryLawsuitCenter.com.
The Onder Law Firm welcomes GM Ignition Injury Lawsuit inquiries from law firms in regards to handling them or working as co-counsel.
About The Onder Law Firm
Onder, Shelton, O'Leary & Peterson, LLC is a St. Louis based personal injury law firm handling serious injury and death claims across the country. Its mission is the pursuit of justice, no matter how complex the case or strenuous the effort. The consumer and family litigators at The Onder Law Firm have represented thousands of Americans in lawsuits against multinational conglomerates from products liability for manufacture of defective or dangerous products to deceptive advertising practices. Other firms throughout the nation often seek its experience and expertise on complex litigation. It is also a recognized leader in products liability cases such as window blind cord strangulation. The Onder Law Firm offers information from lawyers handling GM injury lawsuits at http://www.gminjurylawsuitcenter.com.
*graphics8.nytimes.com/packages/pdf/business/sub-letter-22-motors.pdf
**nytimes.com/2014/11/22/business/gm-bullied-manufacturer-over-poorly-designed-part-email-says.html
**gmignitioncompensation.com