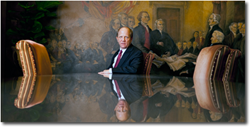 St. Louis, MO (PRWEB) July 16, 2014
Lawyers handling GM recall lawsuits at The Onder Law Firm announce a news update to inform the public of a new GM injury lawsuit that was filed last week. In response to its recall of millions of vehicles this year for a widespread ignition switch defect, General Motors is facing multiple court cases. The most recent of these was filed last Friday, on July 11, 2014, in the Lucerne County Court of Common Pleas in Pennsylvania. This GM injury lawsuit, case number 2014-08274, has been filed by Damon Szatkowski of Shavertown, PA.
According to court documents*, Szatkowski was driving a 2006 Pontiac Solstice when his vehicle crashed on December 3, 2011. All 2006 Pontiac Solstices were recalled in the 2014 ignition switch recalls, according to the GM ignition recall website.** Szatkowski's GM injury claim alleges that the vehicle lost power as a result of the defect, disabling the brakes, steering, and air bags. The lawsuit asserted that the car "became uncontrollable and veered to the right, where it struck a retaining wall." The document outlines the "severe bodily injuries including… a traumatic brain injury and paralyses" suffered by Szatkowski. The claim lists a total of 30 different injuries and types of suffering that the plaintiff's GM injury lawyers say resulted from the ignition defect.
Szatkowski's GM injury lawsuit cites documentation proving GM knew about the ignition defect as early as 2001, and asserts that the company's failure to warn consumers and repair the defect is tantamount to breach of duty and negligence. The court documents allege that GM owed vehicle owners a duty to design and manufacture safe products, to warn and recall defective products, and to provide appropriate repairs to remedy defective or unsafe products. Additionally, this most recent GM recall lawsuit alleges that, "in wilful, wanton, outrageous and reckless disregard for human life" GM continued to sell vehicles that were known to be defective, without recalling or repairing the ignition switch.
In 2005, GM did issue an "Information Service Bulletin" ("Information on Inadvertent Turning of Key Cylinder, Loss of Electrical System and No DTCs", No. 05-02-35-007), according to the court filing for this most recent GM injury lawsuit. This document was sent to dealers of vehicles affected by the defect, which included most of GM's small cars in the Pontiac, Chevrolet and Saturn lines. Through this bulletin, dealers were warned of the tendency for these vehicles to lose electronic power inadvertently, causing a loss of braking and steering ability, as well as disabling the airbags. The GM ignition switch recall was not issued for these vehicles until 2014, which, the court documents state, was nearly ten years after the defect was detected via field tests at GM.
In many instances, cases related to a common defect or recall join forces as a Multi-District Litigation (MDL), allowing similar claims to share discovery and otherwise accelerate a resolution. So far, a number of individual GM injury lawsuits have been filed, but no movement has been made toward MDL.
Lawyers handling GM recall lawsuits nationwide maintain the GM Injury Lawsuit Center website, which provides timely GM ignition recall lawsuit news updates and resources at GMInjuryLawsuitCenter.com. Individuals and the family members of individuals who were harmed in a vehicle that has since been subject to the GM ignition recall may qualify to file a GM injury lawsuit for damages.
No amount of money can compensate families effectively for the loss of loved one, but the threat of GM ignition recall lawsuits may help to prevent similar incidents in the future. In some cases, the financial strain of large settlements may prompt a company to become a better corporate citizen. Lawyers handling GM injury lawsuits nationwide announce no-cost, no-obligation case review to persons or family members of those who were harmed in a vehicle that has been recalled by GM for ignition problems. To receive a GM recall case review with an experienced attorney, contact the firm via its GM Injury Lawsuit Center website.
The Onder Law Firm welcomes GM ignition injury lawsuit inquiries from law firms in regards to handling them or working as co-counsel.
About The Onder Law Firm
Onder, Shelton, O'Leary & Peterson, LLC is a St. Louis based personal injury law firm handling serious injury and death claims across the country. Its mission is the pursuit of justice, no matter how complex the case or strenuous the effort. The consumer and family litigators at The Onder Law Firm have represented thousands of Americans in lawsuits against multinational conglomerates from products liability for manufacture of defective or dangerous products to deceptive advertising practices. Other firms throughout the nation often seek its experience and expertise on complex litigation. It is also a recognized leader in products liability cases such as window blind cord strangulation. The Onder Law Firm offers information from lawyers handling GM injury lawsuits at http://www.GMInjuryLawsuitCenter.com.
*wbcitizensvoice.com/pdfs/szatkowski.pdf
**gmignitionupdate.com/faq.html