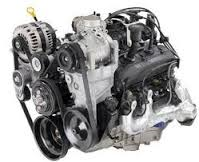 The 4.3 Vortec motors that are now marketed for sale are one of the most popular builds in the GM family and our inventory is attractively priced
Phoenix, AZ (PRWEB) March 05, 2014
The GMC brand of trucks and SUVs sold in the U.S. market continues to be one of the leading sales generators for the General Motors company. The Got Engines company is now helping to support owners of GMC vehicles by including GMC S15 used engines in the 4.3 size through its inventory at http://www.gotengines.com/gmc/gmc-engines.html.
New acquisitions have been completed for the 4300 Vortec brand of engines through different suppliers. The arrival of these motors to the V6 inventory now marketed online is expected to attract more parts buyers to the preowned inventory now for sale. The GMC and Chevy equivalent units that are now for sale can be found on the GotEngines.com website.
"The 4.3 Vortec motors that are now marketed for sale are one of the most popular builds in the GM family and our inventory is attractively priced," said one source for the Got Engines company.
The different motors that are in stock for the GM brand are one example of the changes made to better the customer experiences found using the GotEngines.com website this year. New terms of shipping that are available seek to wipe out the traditional costs that buyers pay through other retailers of motors on the Internet.
"Our 4.3 and other series motors that are available for retail sale are now shipped without charges for freight within the U.S. as a new way to help consumers save when buying replacement engines," said the source.
The Got Engines listed inventory on the company website is now searchable while using the automated selection tool. The inventory is categorized by engine type and size to provide a faster form of independent research.
All price data that is found using the locator system is presented in the form of a quote to allow buyers to review all details before considering an actual purchase.
About GotEngines.com
The GotEngines.com company is one of the sources in North America currently providing discounted auto parts for all makes and models. The company acquisition team currently uses its buying powers to secure the best pricing for all marketed inventory. The GotEngines.com company is one of the sources offering warranty protection and no cost shipment solutions for all purchasers this year. The company inventory is evaluated and rated on a quality scale prior to distribution to the public to maintain assurance levels for consumers.