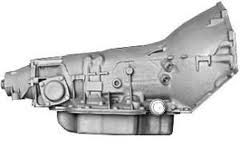 The 1500, 2500 and 3500 Savana vans that use 4-speed automatic transmissions can be fitted with our used editions that are offered in our parts inventory
Knoxville, TN (PRWEB) August 08, 2015
The Savana van series marketed by General Motors in the United States is known for the ability to provide more than one type of shifting technology based on the size of the motor block. The Preowned Transmissions company is now announcing its addition of used GMC Savana transmissions into its inventory of GM components that are now for sale at http://preownedtransmissions.com/used-gmc-savana-transmission.
The market of consumers expected to explore the secondary market assemblies that are now in stock is mixed between mechanics and owners of General Motors vans. The units that are now presented include the 4L60E and 4L80E editions that were manufactured between 1996 and 2007 in the United States.
"The 1500, 2500 and 3500 Savana vans that use 4-speed automatic transmissions can be fitted with our used editions that are offered in our parts inventory," said one seller from the PreownedTransmissions.com website.
The mid-1990 production year models that are now being offered have been sourced from West Coast and East Coast vehicle parts resellers. Since the editions in stock are verified as certified used models, consumers who make a purchase of these editions are covered under the regular warranty terms explained on the Preowned Transmissions company website.
"We are now able to promote standard and HD manufactured gearboxes as part of our revised inventory discounted below MSRP pricing," said the seller.
The sales and information line at 1-866-320-1182 is still a valid method of contact for consumers who need more data about inventory available. For people who order through smartphones or tablets, the ordering center on the PreownedTransmissions.com website is now easier to navigate this year.
About PreownedTransmissions.com
The PreownedTransmissions.com company supplies vehicle gearboxes that are acquired as used for resale to the public. The company now promotes a much larger inventory of non-domestic assemblies on its website. The PreownedTransmissions.com company has built a toll-free client services center to handle quotation requests and order processing through its supplier network.