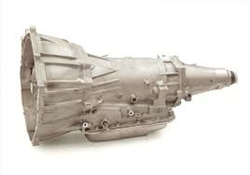 The inventory changes that we're announcing to the public are part of recent activity by our acquisitions team to find new suppliers of American automaker transmissions
Houston, TX (PRWEB) December 17, 2013
New resources for buyers of replacement transmissions can be found using the Preowned Transmissions company online. This company is now announcing its used condition GMC transmissions for public sale at http://preownedtransmissions.com. These OEM GM built gearboxes are now included in the marketed inventory for sale online.
A large percentage of the transmissions, engines and other auto parts used inside Chevrolet vehicles are also used in the GMC brands in the United States. This has provided easier methods of acquisition for used parts for some buyers who have resources in the U.S. The new distributors used by the Preowned Transmissions company has made the GMC gearboxes now for sale possible.
One advantage to the new online inventory that is currently marketed to public buyers is the mixture of old and new transmission technologies. The inventory that is currently featured includes classic editions that feature manual gearbox functionality as well as the updated electronic units used in most newer vehicles.
"The inventory changes that we're announcing to the public are part of recent activity by our acquisitions team to find new suppliers of American automaker transmissions," a source from the PreownedTransmissions.com company said.
The mileage issues that some used parts buyers are confronted with when searching for replacement parts is a growing issue in the second hand industry. Warranty coverage is one method that some companies use to assure buyers of parts quality.
All GMC transmission inventory that is now for sale online includes the standard two-year warranties created this year by the Preowned Transmissions company. These are attached for no additional cost as an added benefit of using this company as a main U.S. supplier.
"The warranty program that we've created for all buyers in North America is an extra effort to assure all buyers that quality is present in the used gearboxes that are distributed," the source included.
The PreownedTransmissions.com company website is currently able to accept online quote requests for all transmissions in stock. Interested buyers who plan to research prior to completing a purchase can request pricing or view warranty information on the company homepage.
About PreownedTransmissions.com
The PreownedTransmissions.com company supplies used condition transmission units that are featured in American and foreign builds. This company discounts all of the retail pricing that buyers of gearboxes find on the company website. The PreownedTransmissions.com online resource currently offers ways that price quotes can be generated using the company homepage. All warranty plans that are offered with each used transmission distributed by this company provides up to 24 months of standard parts protection. The company toll-free phone support system is a new method for obtaining price information and support after sales are processed.