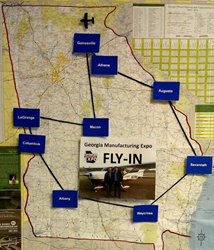 Moss plans to visit at least twelve manufacturing plants widespread across Georgia.
Atlanta, GA (PRWEB) April 17, 2014
More than a dozen cities in just three days - that is what the Georgia Manufacturing Expo (GME) Fly-In tour will consist of. Jason Moss, founder of GME, Mike McGraw of McGraw Enterprises (pilot) and Brad Shumake of 4:TEN Media (videographer) will fly across Georgia touring manufacturing facilities and collecting nominations for the first ever Georgia Manufacturing EXPO Awards.
Kicking off the Fly-In tour just one week following Manufacturing Appreciation Week, GME has planned an aggressive schedule for April 21-23. Moss plans to visit at least twelve manufacturing plants widespread across Georgia. The tour will begin Monday in Gainesville at Murray Plastics. Monday's agenda will close out in Savannah. Tuesday will conclude in Columbus and back to Gainesville late Wednesday.
GME will be promoting the Georgia Manufacturing EXPO while on the tour, but the primary focus will be collecting nominations for the awards. While the Expo will be held June 13-14 at the Gwinnett Center, the awards ceremony will occur the morning of June 13. Hire Dynamics is the sponsor for the GME Awards Breakfast. The GME awards program is a new addition to the EXPO which is in its second year.
The GME Awards acknowledges the people of Georgia's manufacturing industry, part of GME's mission to spotlight "the best of Georgia Manufacturing People, Products and Plants." The ceremony will honor four Frontline Leadership Awards and one Plant Manager of the Year Award. GME has been accepting nominations since early February. The GME Awards is the only of its kind in the industry. Similar awards in the manufacturing industry honor entire companies instead of singling out exceptional employees.
When speaking of the Fly-In Tour, Moss commented, "It's a very aggressive schedule but I think we can pull it off." Moss and his colleagues have plans to meet with the leader of the chamber of commerce in some of the cities they will visit during the three days tour. "We received such a great welcome when we told them about our plans to visit," said Moss. The chamber of commerce leaders will also get the opportunity to submit nominations for the GME Awards.
Scheduled stops on GME's Fly-In Tour include, but are not limited to, the following cities:
Gainesville
Athens
Washington
Augusta
Savannah
Waycross
Tifton
Albany
Columbus
LaGrange
Peachtree City
Macon
Conyers
Lawrenceville
Detailed information for the GME Awards can be found on GeorgiaManufacturingExpo.com. For further information on the Fly-In tour, and to find out when Moss and his team will be coming to your city, follow Georgia Manufacturing Expo on Facebook.