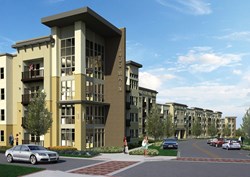 Our Southpointe apartment community will cater to individuals who want a fantastic array of amenities, flexibility, convenience and modern style. - Gary M. Holloway Jr., President of GMH Capital Partners.
Newtown Square, PA (PRWEB) November 14, 2013
GMH Capital Partners, ("GMH") headquartered in Newtown Square, PA, is pleased to announce the groundbreaking of a 376-unit luxury apartment community located in Cecil Township, PA, approximately twenty minutes from Downtown Pittsburgh. The community will be part of the new Southpointe Town Center, the crowning phase of the highly successful Southpointe mixed use development and will offer a true live, work, and play environment. The community is scheduled to open in the 4th quarter of 2014.
As a leading provider of Lifestyle and Community Solutions, GMH embarked on an initiative approximately 2 years ago to develop quality multi-family housing for the energy industry due to the rapid growth of Shale oil and gas drilling. GMH is focused on the communities experiencing the highest drilling activity relative to their size as well as communities where production and service companies are establishing regional headquarters.
Dubbed "The Energy Capital of the East", GMH chose Washington County for its development because of the Marcellus Shale's reputation as one of the largest natural gas plays in the world. To assist them in site selection and discovery, GMH engaged RT Walker formerly of Beynon & Co. now with CBRE, Inc. because of his experience and expertise in both the local real estate market and the energy industry.
"GMH was very interested in the explosion of growth in the area and realized there was a void in this market for Class "A" multi-family housing," stated Walker. "When I first met with GMH and began to understand their product and vision, I immediately presented Southpointe for consideration. One of the numerous reasons that Southpointe is such an ideal location for sophisticated housing is the huge surge of transplanted executives and support staff in the oil and gas industry that have gravitated to the Washington County area," continued Walker.
Southpointe is the world headquarters for Consol Energy, regional headquarters for Range Resources, world headquarters for Mylan Inc, and other Fortune 500/1000 companies including Chesapeake Energy, Halliburton, and Fairmont Supply.
"The local housing market cannot currently meet the demand, and also has limited options in the product that is available. When these apartments are finished, they will immediately have a significant impact in the local marketplace due to their quality, style and wide array of modern amenities and finishes," stated Walker.
After an extensive RFP process, GMH was selected by Master Developer, Horizon Properties Group, to execute its vision for a luxury residential development on a premier site within the 40 acre Southpointe Town Center, the final phase of the Southpointe mixed use development. GMH's extensive experience combined with their creative design and planning were among the numerous reasons they were awarded the project.
GMH's plan for the multi-family housing portion of the Southpointe Town Center includes a vibrant four-story luxury apartment community built on 8.10 acres. The building design will enhance and embrace the natural connection of the live, work, play philosophy that Southpointe Town Center embodies. The grand entrance to the property will be situated along Main Street and will be an extension of the urban streetscape consisting of high-end retail and five star restaurants. A large and stylish clubhouse, complete with state-of-the-art amenities will complement the rich features and designs found within the apartments themselves.
Approximately 3.5 million SF of upscale office and commercial space exists within Southpointe today providing employment for over 13,000 professionals within 240 businesses. When completed, Southpointe is expected to employ over 15,000 people. Southpointe is directly accessed from I-79 via the Southpointe Boulevard and Canonsburg exits. This major highway provides convenient north-south access throughout the Pittsburgh Metro.
"We are honored to be a part of the excitement and success of Southpointe" stated Gary M. Holloway Jr., President of GMH Capital Partners. "Our Southpointe apartment commuinity will cater to individuals who want a fantastic array of amenities, flexibility, convenience and modern style. Being situated in the new Southpointe Town Center is the ideal location in Washington County and gives us the ability to offer new luxury rental residences to neighboring communities who have very few choices otherwise. The future of Pennsylvania's economic growth and stability will be largely driven by this region, and GMH Capital Partners is looking forward to playing a role in it," finished Holloway.
About GMH Capital Partners:
GMH Capital Partners is a nationally recognized leader in the real estate market specializing in the areas of development, construction, investment, and asset management. GMH Capital Partners has developed numerous successful multi-family communities and commercial developments around the United States including student, military, retail and commercial properties. GMH Capital Partners provides streamlined resources and solutions to its partners, clients and tenants by utilizing strategic planning, integrated technology solutions and an expert executive team.
Contact:
Bruce Pilarczyk
Vice President of Marketing
GMH Associates, Inc.
10 Campus Boulevard
Newtown Square, PA 19073
ph: 610.355.8023
fax: 610.355.8323
email: bpilarczyk(at)gmh-inc(dot)com
###