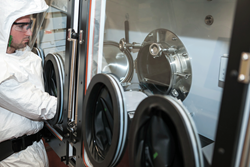 Only personnel with completed hands-on training are allowed entry to the controlled environment in the PCS.
Morton Grove, IL (PRWEB) August 20, 2015
Regis Technologies recently opened a new Potent Compound Suite (PCS) for custom manufacturing of highly potent active pharmaceutical ingredients (HPAPIs). Regis spent two years constructing the suite and preparing its team for the new potent compound capabilities. Learn the steps this GMP contract manufacturing organization (CMO) took to build its potent compound staff.
Regis invested in this project to extend their custom cGMP offerings to the oncology market. The new PCS will also provide new avenues of career development for its staff. Thus, Regis decided not to hire new personnel but rather to promote from within the company. Primarily, this decision provided an opportunity for advancement of current employees to a leading position within a key and dynamic manufacturing department. However, it also brought benefits since the new "lead" would already be familiar with Regis operations, organizational structure, and safety practices.
The company published the position internally with requirements determined by their Manager of Process Engineering. They required a degree in chemistry with experience in performing complex synthesis of APIs under cGMP regulations, writing batch records and campaign reports, an excellent record in process safety, and more. On top of prior experience, the chemist would also have to commit to taking continuous education courses related to potent compound handling.
Before the hiring process started, Regis' staff had already been preparing for training for several months. First, they developed Standard Operating Procedures (SOPs). Regis' Quality Assurance department wrote procedures of handling of APIs based on their health hazard category and for specific operations, such as proper use of ventilated balance enclosures, containment isolators, fog shower, and the appropriate personal protective equipment. Next, Regis developed its internal training program. This was a group effort that included the entire production department.
Regis developed a three tier system that trained:
1. Employees: The staff studied potent compound safety and handling practices;
2. Trainers: The EHS Coordinator and other personnel required training on potent compound program components;
3. Management: Supervisors and all management needed to learn the business aspects of incorporating health and safety systems and appropriate safety culture.
To achieve these standards, three members of Regis' potent compound team (i.e. from the Trainer and Management categories) attended external training from occupational health categorization experts, Safebridge Consultants.
When Regis promoted the chosen lead and other chemists to the PCS team, it was ready to implement its PCS-specific training program. Chemists started by reading more than 20 SOPs related to potent compound handling. SOPs for cGMP facilities are written documents with procedures that must be read, practiced "hands-on" with supervision, and performed perfectly without input of a supervisor. Only personnel with completed hands-on training on these SOPs are allowed entry to the controlled environment in the PCS.
So far, 11 employees have completed the required hands-on training. To ensure retention and safe practices, Regis will require the PCS team to pass a safety review prior to each campaign. The PCS is now qualified and ready to host projects.
Regis is a CMO operating a 36,000 square foot, cGMP facility in Morton Grove, Illinois. The PCS addition provides for small molecule cGMP manufacturing of potent compounds up to about one kilogram per batch. PCS targets small molecule oncologicals and linker payload projects for antibody drug conjugates.
For more information on HPAPI manufacturing and Regis' as a proven provider in drug development, visit their website.