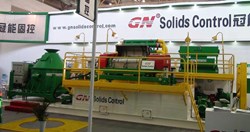 GN Solids America LLC
(PRWEB) February 12, 2014
"GN Solids Control" is one of the few famous Brand solids control company from eastern countries. GN Solids America is an USA based subsidiary company of Hebei GN Solids Control Co.,Ltd. GN Solids America LLC is the distribution and service center for GN Solids Control China to cover the market of North America. And GN America also supports business in the Latin America Market.
The oil center city Houston's good business opportunity attracts many Chinese oil gas Giant to set up the international branch there. However GN Solids America is the first USA based solids control equipment company from China. This is good news for the oil gas drilling companies, and the drilling mud and waste management service companies in North America. This will help the oilfield service companies to have another fresh option for the solids control and waste management equipment with different features and benefits.
From the market reports, The drilling waste management market is estimated to reach about $8 billion by 2018, signifying a firm growth rate of over 10% from 2013 to 2018. The USA and Canada is a very important market for GN. The environmental concerns and regulatory norms imposed by local governments push the operators to pay more attention to the drilling waste management.
GN Solids America LLC was registered in the oil center city Houston, Texas in May, 2013. As one of the leading solids control equipment brand in the world, GN Solids Control design and manufacture complete line Solids Control equipment including: Shale Shakers, Mud Cleaner, Decanter Centrifuge, Vacuum Degasser, Desander, Desilter, Centrifugal Pump, mud agitators, poor boy degasser, mud tank etc. Also GN Solids Control also manufactures products for drilling waste management including: Big Bowl High Speed Centrifuge, High G Force Drying Shakers, and Vertical Cuttings Dryer.
GN Solids America LLC is located at 6710, Windfern Road, Houston, Texas GN Solids America Warehouse and Office space is over 30,000 SF which ensures GN to keep enough stock of solids control equipment and spare parts to support the market in the USA.GN Solids America LLC main business is to distribute Solids Control and waste management equipment to oil drilling companies, oilfield service companies, oil rig manufacturers. And it is also to support the customers with spare parts and after sales service on time. To serve the market better, GN Solids America is also looking for local partners to jointly working together and to have more branches to cover the main oil fields. Also as a new company here in the USA, GN Solids America welcome the local solids control engineer to join the company, and experience a challenging but fun job. And the employees will also have the opportunity to come to GN head quarter in China to get training of the solids control equipment.
Brient introduction of GN Solids Control
1) GN Solids Control is first API Certified Solids Control Company in China.
2) GN Solids Control manufacture base total area is around 65,000 ㎡(700,000SF), with advanced processing machines.
3) GN Solids Control products have been used in over 60 countries including many big players in the oilfield.
4) GN keeps developing the state of the art products and owns over 10 patents.
5) GN Solids America team will always be there 7/24 to service you in Houston, Texas, and we are expanding in more areas to set up service point.
6) GN always keep in mind " Safety" is the first all oilfield jobs, GN Solids Control has passed HSE, ISO14001, and ISO 28001.
GN most popular products now are the decanter centrifuge and High G Shale Shakers. GN Heavy Duty big bowl PLC smart centrifuge will do the oilfield job for different conditions including but not limited to barite recovery, low gravity solids separation, high gravity solids separation, dewatering etc. GN High G force shale shaker can be used as a primary shale shaker for solids control and it's High G design allows you to use up to 8.0 G for drying the drilling cuttings from the primary solids control equipment. And it's patent design with dual deck adjustment in one unit for reliability and flexibility including electric and mechanical adjustment.
Integrated manufacture of equipment for complete solids control system.
Not only GN Solids Control provide the separate solids control equipment, but also another advantage is GN is one of the biggest supplier for the complete drilling rig solids control system.As the solids control equipments need to be integrated ,Instead of a collection of equipment from various sources, GN manufacture the entire drilling fluids solids control equipments in our factory. All the solids-control components are specifically designed to function as a single unit. Moreover, GN Solids Control analyzes well parameters and drilling objectives for each application and tailors the right combination of equipments for optimal results.
As a global Brand, GN Solids Control has already exported mud system or solids control equipments and parts to more the 60 countries and regions including but not limited to following:
1) North America:America, Canada. Decanter Centrifuges, Shale Shakers, Shaker Screens, Mud Agitators, screw pumps ect. to those countries.
2) South America:Brazil, Colombia , Argentina , Peru ,Venezuela, Chile ,Ecuador. Solids Control Equipments, Mud Agitators, Pumps, Vertical cuttings dryers ,centrifuges to those South Africa countries.
3) Middle East:Egypt,Iraq,Israel,Jordan,Kuwait,Oman,Saudi Arabia,Syria,Turkey,United Arab Emirates,Yemen,Cyprus(Soon),Mud recycling systems, Decanter centrifuges, Shale Shaker, centrifugal pumps ect. to those middle east countries.
4) Africa:Libya, Nigeria,Egypt, Ethiopia,South Africa, Algeria ,Sudan, Morocco, Tunisia ,Republic of the Congo etc. The Shale Shakers,Decanter Centrifuges,shaker screens to those Africa countries.
5) Australia,New Zealand,Papua New Guinea
6) Russia Speaking Countries: Russia, Kazakhstan,Ukraine,Azerbaijan,Uzbekistan etc.
7) Asia countries & regions: Indian, Korea , Indonesia , Thailand , Hong Kong SAR of China ,Philippines, Pakistan,Bangladesh , Vietnam , Mongolia etc.
8) Europe Countries: United Kingdom, Netherlands,Poland, Germany, Romania,French, Sweden etc.
Contact GN Solids America LLC

Add:6710 Windfern Road, Houston, TX 77040, USA
Bruce Dong (America Disctrict Manager)
TEL: +1-713-878-0880
Email: Bruce(at)gnsolidscontrol(dot)com
Website: http://www.gnsolidsamerica.com