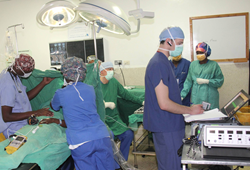 Greenville, PA (PRWEB) May 20, 2014
Two expert teams bridged two continents with advanced web-based brain mapping technology to perform a groundbreaking operation giving life-changing benefit to a young Kenyan patient with chorea, a severe movement disorder. Distance Expert®-Surgical allowed pediatric neurosurgeon Dr. Leland Albright in Kenya the real-time expertise of intraoperative neurophysiologist Dr. Erwin B. Montgomery Jr. in Pennsylvania to monitor brain cell activity as Albright passed a micro-electrode down to a target deep in the brain. With this new technology, two teams previously required to operate from the same room can virtually connect offering the same hope brought to Dr. Albright's patient, to underserved patients worldwide.
The 25 year-old woman had fought a 17-year battle with severe chorea, which frequently resulted in significant self-injury due to excessive movements in her hands. After developing the movement disorder as a child, Dr. Albright's patient and her family made exhaustive attempts to control the disabling symptoms, including trialing seven different oral medications over the past three years with no improvement. In consultation with Dr. Montgomery and a movement disorders neurologist in Israel, Dr. Albright believed that a pallidotomy was indicated. Now only days after her surgery, the movements have ceased and in turn improved her quality of life.
Living northwest of Kenya's capital Nairobi, the patient sought care from the faith-based, nonprofit Kijabe Hospital that sits on the Rift Valley escarpment. Reaching it requires travel over some 40 miles of rough road creating a barrier for expert consultation. Developed with such locations in mind, the web-based software enables offsite specialists to assist onsite surgical teams in surgical planning and intraoperative neurophysiological monitoring by use of standard FDA–approved techniques.
Optimal surgical outcomes for patients undertaking surgical interventions, infusion or other neuromodulation therapies depend on monitoring and targeting specific brain regions by recording brain cell activity. A team of researchers led by Dr. Montgomery and researcher-computational scientist He Huang at the Greenville Neuromodulation Center (GNC) has developed software that ascertains critical information necessary to monitor brain cell activity over the Internet. Web-based technology holds the potential to more than bridge two physicians; it holds the key to expanding access to expert treatment.
Support for this procedure was made possible by way of Dr. Albright and the Kijabe Hospital's collaboration with GNC and GNC's dedication to providing 15% of revenues to charitable services. GNC in turn contracted FHC, Inc., a leading manufacturer of microelectrode recording devices, for neuroCase procedural support services including the necessary equipment, supplies and human resources.
Partners in this case recognize how physical barriers to physician-specialist collaboration plague not only Kijabe, Kenya, but also many other developing countries. According to Dr. Montgomery, the means of addressing limited access to care are clear. "Technology holds the potential to expand the capacity of physicians and nonexpert healthcare providers to fill this void and deliver state-of-the-art care and ultimately, relief to patients regardless to their location."