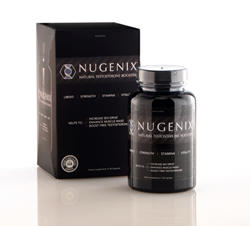 'Nugenix is a best-in-class nutritional supplement as evidenced by the reception it has received from GNC's core consumer base.' - Tom Scarfato, VP of Sales
Charlotte, NC (PRWEB) March 25, 2014
Direct Digital, LLC, the creator and marketer of premium nutritional and wellness supplements, recently announced that Nugenix® Free Testosterone Booster has been selected as a recipient of GNC's Vendor Awards and named 'Best Product Innovation' of 2013.
Nugenix®, which officially launched in early 2013, immediately became a top-selling product in GNC stores and at GNC.com. As such, it follows in the footsteps of another GNC best-selling product, Instaflex® Joint Support. Instaflex® is GNC's number-one selling joint support product in the US and is among the top-ten best selling items in Canadian GNC stores.
Direct Digital products boast highly efficacious, quality formulations which have been derived from the most scientifically advanced, aggressively-tested, ingredients available. Nugenix®, which contains a proprietary blend of key ingredients, has obviously resonated with today's discerning consumer and is thus the recipient of this honored distinction.
According to Direct Digital's Vice President of Sales, Tom Scarfato, "GNC is a fantastic retail partner and because of this valued relationship, we are especially pleased to be the recipient of this prestigious award. Nugenix is a best-in-class nutritional supplement as evidenced by the reception it has received from GNC's core consumer base. We look forward to working with GNC in the years and months ahead by continuing to deliver new, innovative and award-winning products."
To learn more about Nugenix®, Instaflex® Joint Support, and the entire portfolio of Direct Digital wellness products, please visit: http://www.Nugenix.com, http://www.Instaflex.com or http://www.DirectDigitalllc.com.
About Direct Digital, LLC
Direct Digital, based in Boston, MA and Charlotte, NC, is a leader in product development and online marketing within the health and wellness space and owns multiple brands including Instaflex®, Slim Science™, Nugenix®, Beneflex®, Lumiday® and Luminite®. All Direct Digital products are distributed throughout North America and internationally, including Canada and the Middle East. For additional information, please visit http://www.DirectDigitalllc.com.