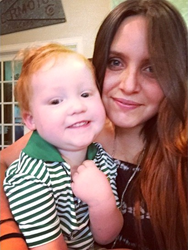 We couldn't ask for anyone better to spend that time with our children.
Salt Lake City, Utah (PRWEB) February 13, 2016
When an Au Pair comes all the way around the world to provide child care for kids, Host Parents aren't always sure what they are in for and they are often worried things won't go well. More often than not, however, they find out their Au Pairs are more than they were hoping for. This year's Au Pair of the Year winner's all commented how their Au Pairs have become a part of the family, are a flexible childcare choice and they shared the benefits of the Au Pair cultural exchange.
Bringing in an Au Pair can be nerve racking. Host Parents meet them over Skype but the face-to-face meeting doesn't happen to months later when they are matched and in the country. Au Pairs often speak a different language and may be going through cultural shock.
The Coggshall family in Hamilton, Ohio, worried they wouldn't blend well with their Au Pair, Charity from South Africa. Even after she arrived they watched for ways having an Au Pair wouldn't work for them, however, Charity has changed their home life. "Something my husband and I tend to lose sight of as we are always trying to gain momentum in our careers and focus on being financially secure. This is a cultural lesson I hope to apply to our lives. Charity had a positive impact on our family. She is patient, gentle and easy going. Listening to her tell stories of home; she and her family take time to sit with friends and family, relax and enjoy one another. They are content."
Host Families also learn a lot about other cultures. The Milligan Family from Upper Arlington Ohio has felt like their Au Pair and her family have become apart of their own family. "Moni has invited our children to be a part of her family too. She often includes them in her internet-webcam calls to home allowing them to feel loved and included in her family all the way in Colombia."
The winning nomination was sent in by the Anschutz family from Austin, Texas and they talk about the difference their Colombian Au Pair Silvia has made in their home. "It is hard for us both being working parents and leaving our infant and toddler behind each and every work day and on some days seeing someone else get to spend more awake time with the children than you do. But we couldn't ask for anyone better to spend that time with our children."
Using an Au Pair can be intimidating, but weighing the friendship, cultural exchange, and live in flexibility into the equation, our Host Families have illustrated that the uncertainty is worth the risk, especially because the Au Pairs from Go Au Pair have ranked highest in the Au Pair Clearinghouse surveys.
Go Au Pair is one of the original Au Pair Program sponsors designated by the department of State in 1989. There are Go Au Pair representatives in over 50 countries on six different continents and in more than 100 American cities. Their company headquarters is in Salt Lake City, Utah.