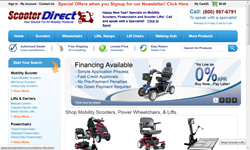 Electric mobility scooters are all about taking the ease of transport to its next level, while ensuring that these mobility products are ideal to steer through narrow hallways.
(PRWEB) April 27, 2015
Scooter Direct is now offering Pride Go Go Traveller Elite 3-wheel scooter at a discounted price of only $929.00, marked down from the MSRP of $1605.00. Scooter Direct, the top mobility products store is known for offering quality mobility solutions to its clients. The online store excels in selling scooters, lifts, wheel chairs, lift chairs, and their accessories at unbeatable prices.
Speaking about the salient features of Go Go Traveller Elite, a senior store manager stated, "Electric mobility scooters are all about taking the ease of transport to its next level, while ensuring that these mobility products are ideal to steer through narrow hallways. The Pride Go Go Traveller Elite belongs to a specific class of mobility scooters with tight turning radius and unmatched stability. Whether indoors or outdoors, the commute will be a breeze for its proud owners. Equipped with interchangeable 12AH or 18AH battery pack, this particular mobility scooter serves two purposes: use 12AH for the lowest weight lifting requirements, or use the 18AH for long-distance driving, such as a theme park.."
Pride Go Go Traveller Elite Scooter is undeniably a convenient mode of transport for those who need a compact scooter to make their daily chores more enjoyable than ever before. On 12AH battery packs, it offers an impressive range of 7.2 miles per charge, which can be increased up to 14 miles by swapping the battery packs with 18AH ones. Despite only weighing 75 lbs, without the battery pack, the Pride Go Go Traveller Elite scooter is powerful enough to flaunt a maximum weight bearing capacity of 300 lbs.
The senior store manager commented further, "Other features of Pride Go Go Traveller Elite portable mobility scooter that deserve a mention include its top speed of 4 mph, 33" turning radius and its 2" ground clearance. Since it is portable, the scooter disassembles into five lightweight pieces, which allow owners to lift the scooter into the vehicle a piece at a time. Furthermore, it is perfectly easy to charge the battery pack on or off the scooter. You never need to bend down to charge the battery since its charging port is there close to handle bar itself. Last but not least, its flat-free non-scuffing tires won't leave you stranded, providing you with perfect peace of mind."
Scooter Direct is offering a free one-year in-home service warranty with all Pride scooters. Simply call us and report the issue and we will send the technician to your home to repair the warranty issue. Other freebies that would help prospective buyers arrive at a decision faster include arm saddlebag, front basket and cup holder. The online scooter store further offers free shipping within the continental US. Scooter Direct's lowest price guarantee provides yet another reason to prospective customers to buy this particular model of Go Go Scooter. The leading Mobility Scooter Store Online further offers home delivery and in-home setup on request.
About Scooter Direct:
Based in Odessa, Florida, Scooter Direct is a forerunner in mobility products' segment. The leading mobility products store also supplies related accessories to customers at reasonable prices. Mobility products available in its inventory include 3-wheel travel scooters, 4-wheel travel scooters, 3-wheel mobility scooters, 4-wheel mobility scooters, and other products, sourced from reputable mobility product manufacturers. Therefore, those who want to buy mobility scooters for sale find Scooter Direct perfectly suited to their needs and requirements. The online store has a range of portable travel mobility scooters each of which promises quality, affordability, and ease of transport.
Contact Information:
Scooter Direct, LLC
11431 Challenger Ave
Odessa, FL 33556
Phone: 1-800-987-6791 (toll free)
Fax: (800) 648-7009
Email: info@scooterdirect.com
Website: http://www.scooterdirect.com/
# # #