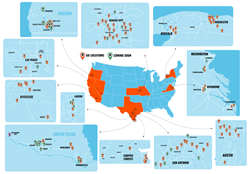 MEDFORD, Ore. (PRWEB) September 09, 2022
GO Car Wash expanded its presence on the west coast with the acquisition of Wash N' Go Depot including 3 operating sites in Medford, Oregon. With this acquisition, GO Car Wash will now operate 115 locations in 8 states.
"Our former team members and customers are going to be in excellent hands with the GO Car Wash team," said Kelly Geiger, Wash N' Go Depot Founder. "I am excited to know the business will continue to provide great service to Oregon communities under the GO Car Wash name."
"Our growth strategy in Oregon is the same as we are executing in other core markets," said Chris Andersen, VP of Business Development. "We enter markets with a platform acquisition of 3+ sites and then follow with aggressive acquisition and greenfield development. We have development partners on the ground in Oregon and we expect to build 25+ sites from northern California to southern Washington, including Portland, along the I-5 corridor."
"We see from our success in markets such as Kansas City, San Antonio, and Rochester, that density leads to higher customer satisfaction" said Brett Meinberg, Chief Operating
Officer. "Customers appreciate having a network of car washes to choose from, resulting in higher membership levels and better retention."
In late 2021, GO Car Wash hired Nick Koros as its Chief Development officer. Nick has 20+ years' experience building roadside consumer brands with Lifetime Fitness, Boston Market, PF Changs, and Starbucks. "Nick has built a strong team of real estate, development, and construction professionals alongside multiple development partners. We are pleased with the progress we are making to become a highly experienced car wash builder." said Bill Derwin, CEO of GO Car Wash.
"We are bringing 25 to 50 greenfield sites to market per year," says Nick Koros, Chief Development Officer. "In addition to Oregon, we are building in all core markets such as Kansas City, Las Vegas, San Antonio, Austin, Southern Texas, Southern California, Upstate New York and Virginia."
About GO Car Wash
GO Car Wash was founded in 2019 with the goal of building a multi-regional car wash company with clusters throughout secondary cities across North America. Headquartered in Denver, CO GO Car Wash will focus on high-quality exterior express car washes, with a multi-pronged growth strategy of acquisitions, partnerships, and greenfield development.
Contacts
Bill Derwin
bill.derwin@gocarwash.com
Chris Andersen
chris.andersen@gocarwash.com
Links
http://www.gocarwash.com
SOURCE: GO Car Wash