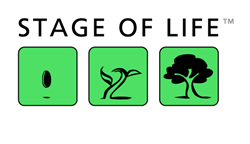 We welcome over half a million teens and teachers to our educational content each school year, and over 35,000 of those visits come to view and download our Goal Setting Worksheet.
Minneapolis, MN (PRWEB) December 30, 2013
International online writing community, StageofLife.com, created a universal goal setting worksheet for Millennials to Baby Boomers explore their personal and professional goals for 2014. The 10-step worksheet was designed by StageofLIfe.com as a goal setting resource to help make the world a better place and empower people to live positively.
The educational startup's website recently celebrated its 1,000,000th visitor and the development of its goal setting content is driven by both user demand and company vision.
"As our teen and teacher traffic began to grow, we wanted to encourage people of all ages to start thinking about the possibilities and opportunities in one's life, no matter what life stage someone may be experiencing," said Eric Thiegs, StageofLife.com CEO and Founder.
The steps in the guide cover goal themes in categories such as health and wellness, financial, travel, philanthropy, education, personal, long term, and more. Because it's a free goal setting resource, the tool has been used by educational institutions, homeschooling families, and secondary level teachers to help junior high and high school students start thinking about their futures.
Additional educational content developed by StageofLife.com with a goal component include:

Top 10 Financial Tips for Life
Financial Literacy Resources
And more
"We welcome over half a million people to the website each school year, and over 35,000 of those visits now come to view and download our goal setting resources," said Rebecca Thiegs, Co-Founder and VP of Education for StageofLife.com. "We love the positive feedback we get from teachers who tell us they're using the worksheet in class to extend writing and positive thinking about life outside of school."
The worksheet is available as a free PDF file download on StageofLife.com's goal setting page.
StageofLife.com was founded in 2009 as a blogging community and goal setting resource for all ages. It is a privately held start-up company founded by Minnesota natives, Eric and Joseph Thiegs. The site welcomes over half a million teens, parents, and teachers each school year to its goal setting and educational content featuring writing contests, blogging resources, teen trend reports, educational resources, literacy initiatives and more.