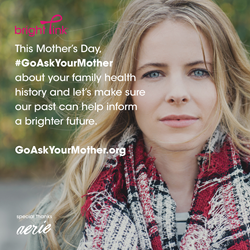 Chicago, IL (PRWEB) May 07, 2015
This Mother's Day, Bright Pink, a national non-profit focused on the prevention and early detection of breast and ovarian cancer in young women, and Aerie, the lingerie company for every girl, are launching #GoAskYourMother, a campaign to educate women about their personal risk for breast and ovarian cancer.
On Thursday May 7, celebrities, bloggers, influencers, and young women alike will post a picture of themselves and their mom from now or way-back-when using the hashtag #GoAskYourMother, with an invitation to visit GoAskYourMother.org to learn about the life-saving conversations they should be having with their mothers and other close relatives. Additionally, the Mother's Day webpage will drive visitors to take Bright Pink's "Assess Your Risk" quiz, suggest healthy ways to celebrate Mother's Day and provide tools to help fully embrace Bright Pink's mission of prevention and early detection.
"The heightened awareness about breast and ovarian cancer in the media is wonderful," explains Lindsay Avner, founder and CEO of Bright Pink, "but it has left some women wondering how to be proactive about their own health. We are excited to partner with Aerie to teach women about the first and most important part of that process - a conversation with your mother or other close relative to collect your family health history."
The campaign comes at a time when breast and ovarian cancer are receiving a flood of national attention, particularly in the entertainment world. Recently, we've seen announcements related to breast and ovarian cancers from such high-profile names as Angelina Jolie, Taylor Swift, Kelly Osborne, Rita Wilson, and Cobie Smulders. While their personal stories vary, this wave of public attention demonstrates an unfortunate fact: one in eight women will develop breast cancer in her lifetime. While ovarian cancer is more rare (one in 67 women will develop in a lifetime), it is far more deadly, as only 1/3 of women diagnosed will survive. When detected early, however, the five-year survival rate for breast and ovarian cancer is greater than 92%, according to the Surveillance, Epidemiology, and End Results Program at the National Cancer Institute (SEER).
"Our partnership with Bright Pink relates directly to our Aerie Real campaign and allows us to connect with our girls in a personal, supportive way. It is important to have real conversations with our customers and link them to Brightpink.org, a resource we that will help women learn more about breast and ovarian health and possibly save lives," said Jennifer Foyle, Aerie global brand president.
To take part in the #GoAskYourMother campaign, participants will simply upload a photo of themselves with their mother or of their mother to their favorite social media platforms with a call-to-action to "join @bebrightpink and @aerie and #GoAskYourMother about your family health history at http://www.GoAskYourMother.org."
For more information, visit http://www.GoAskYourMother.org or contact:
Emily Aschbrenner
Elle Communications (for Bright Pink)
Emily(at)ellecomm(dot)com
Aerie
Kayt Pritts - prittsk(at)ae(dot)com
ABOUT BRIGHT PINK
Bright Pink® is a national non-profit focused on the prevention and early detection of breast and ovarian cancer in young women. The organization's mission is to save women's lives from breast and ovarian cancer by empowering them to live proactively at a young age.
Bright Pink's innovative programs educate and equip young women to Assess Your Risk for breast and ovarian cancer, reduce your risk, and detect these diseases at early, non life-threatening stages. Founded by Lindsay Avner in 2007, Bright Pink strives to reach the 52 million women in the US between the ages of 18-45 with this life-saving education. Put Awareness In Action™ at BrightPink.org.
ABOUT AERIE
Aerie is bras, undies and more for every girl. Designed in sizes 30A to 40DD, Aerie is committed to making bras for girls of all sizes feel good about themselves, inside and out… because we believe the real you is sexy. No supermodels. No retouching. #aerieREAL. For more information, please visit http://www.aerie.com.