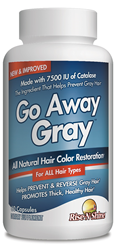 (PRWEB) March 04, 2014
Rise-N-Shine, LLC will join natural product industry leaders at the 33rd annual Natural Product Expo West trade show at the Anaheim Convention Center in Anaheim, California from March 7-9. Expo West has an average of more than 2,000 vendors and over 60,000 attendees during the three day event.
This year, Rise-N-Shine will be show casing the newest formula for the Go Away Gray™ capsules, as well as other products such as Go Away Gray™ shampoo and conditioner and Wake Up On Time. Rise-N-Shine, LLC will be available to meet attendees at the Select Nutrition booth.