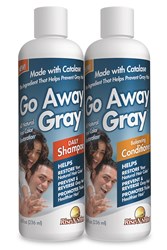 After taking this for two months the hair on my head that was completely white, has about 50% dark hair coming in now. Plus, I feel like it has thickened my hair with some new growth coming in now.
Sparta, NJ (PRWEB) February 12, 2014
The most accurate way to fight something is from the inside out. Go Away Gray™ now offers a shampoo and conditioner to be used along with its newly formulated capsules.
Go Away Gray™ Shampoo and Conditioner contains a high concentration of Catalese, along with other nutrients to help bring back your natural hair color, while also promoting thicker, healthier hair. This product can be used alongside the Go Away Gray™ capsules to help increase the gray hair reversal process.
Based on scientific research, the Go Away Gray™ products replenish the enzyme Catalese, which slowly depletes as we age. Hydrogen peroxide, which is naturally produced in our body, is broken down by Catalese. If an insufficient amount of Catalese is produced then the hydrogen peroxide builds up and bleaches your hair from the inside out, leaving it gray, silver or white.
Once the amount of Catalese in your body increases, the hydrogen peroxide will gradually be broken down, returning your hair to its natural color. Use Go Away Gray today and watch your gray hair go away!
For more information please visit goawaygray.com.