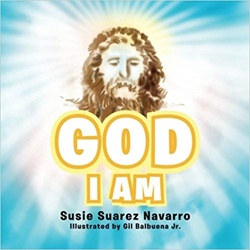 SAN ANTONIO (PRWEB) September 25, 2018
Having served as a teacher for 50 years, author Susie Suarez Navarro realized that there is a need to teach children to have faith. In her picture book "God: I Am" (published by Xlibris), she presents a story meant to help children visualize the meaning of God in one's life.
Who is God? To the faithful, this is a simple answer, but what does a child know of God? This book introduces children to God through an illustrated book that can be likened to an intimate conversation with God where he compares himself to various ideas, like love and peace, to slowly build on the child's concept of who God really is.
"Children need to have faith in God and themselves," says Navarro. "God: I Am" endeavors to do this by presenting a vividly illustrated tale meant to inspire in its young readers, a complete trust in God's love and commands. It is simple and easy-to-follow book for children in their first steps towards knowing and believing in God.
To purchase and know more about the book, readers can visit https://www.amazon.com/God-Am-Susie-Suarez-Navarro/dp/1462861717.
"God: I Am"
By Susie Suarez Navarro
Softcover | 8.5 x 8.5in | 24 pages | ISBN 9781462861712
Available at Amazon and Barnes & Noble
About the Author
Susie Suarez Navarro is a retired teacher. She is the sixth child of a family of 12. She is the first teacher in her family. After her, two of her sisters became teachers. A whole bunch of her nieces became teachers, as well. She has been in service as a teacher for 50 years. She has three children and four grandchildren. She was featured in the "Who's Who" of Cambridge.