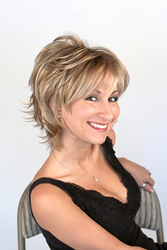 The purchase of my Godiva's Secret wig has changed my life. It has given me confidence knowing that my appearance is so dramatically improved.
(PRWEB) December 16, 2014
Godiva's Secret Wigs is a family run, heart-based business that specializes in first time wig wearers and women experiencing hair loss due to chemotherapy, alopecia, stress, and other hair loss challenges. For over 17 years, they have been empowering people personally and professionally with their wigs. Recently, they have been voted "Best Wigs" by the Los Angeles Daily News for 2014. They have been awarded this honor for the last 8 years in a row. To celebrate this event with their clients, they have announced a special online sale through January 31, 2015. of 15% off of an entire online order.
Godiva's Secret Wigs' award-winning synthetic wigs have helped thousands of women during one of the most challenging times of their lives…the challenge of hair loss. Whether someone needs wigs for hair loss, alopecia, wigs for cancer patients or wigs for travel and convenience, Godiva's Secret Wigs is "hair" to help. They have two retail stores in Southern California and ship orders worldwide from their website.
Rochelle Holt, President of Godiva's Secret Wigs, founded the company with her daughter and Vice President, Danielle Starkman. This mother/daughter team has been an informative resource in the wig industry since they started selling wigs 17 years ago. Their passion and desire to help empower women is contagious and can be felt the moment a customer walks into their wig stores. Leigh from California, whose mother was diagnosed with cancer, says, "The sales staff working at Godiva's Secret Wigs was so informative, loving and warm. They were ready with tissues when all of us needed them. Godiva's [employees] really listened to my mother's hair needs and what she wanted."
Customers who do not live near one of the Godiva's Secret Wigs stores still have the opportunity to endeavor into these award-winning wigs on their website. They have over 70 videos on YouTube that share tips, showcase their modern wig styles and demonstrate how easy their wash-and-wear wigs transform clients from average to fabulous in seconds. The videos display the passion that Danielle and Rochelle have to share their wig wisdom. They show everything from how to wash a wig, how to secure a wig, to the top wig styles and colors. The videos help clients choose their wigs and colors so they can easily purchase on their website. They also offer customer assistance, which is just a phone call away or, if customers prefer, they can contact the company via email.
Rochelle and Danielle created Godiva's Secret Wigs with the vision of empowering, sharing, and caring. Rochelle proudly announces, "We are truly honored to receive the Best Wigs award again for 2014. We are blessed to have such a loyal clientele and to be able to share our company's products nationwide. We will continue to provide our clients with quality products and the exceptional service that our company was founded on."
In honor of the award, Godiva's Secret Wigs is offering 15% off of an entire online order through the end of January 2015. Use promo code BESTWIGS on their website, http://www.GodivasSecretWigs.com. This offer can not be combined with any other discounts. For someone who is experiencing hair loss challenges or could enjoy an award-winning wig to enhance their personal style, Godiva's Secret Wigs is "hair" to help.