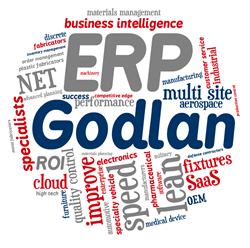 ...delivering tools and content of value...
Clinton Township, MI (PRWEB) September 24, 2013
Godlan, a manufacturing ERP software specialist and Infor Gold Channel Partner, announced today the launch of their new website hosted at http://www.godlan.com. The new site is dedicated to ERP (Enterprise Resource Planning), manufacturing, process improvement, services, and hosts scores of free whitepapers, informative videos, and other useful information for today's forward moving enterprise.
The new website features improved functionality, design, and navigation - with a focus on delivering tools and content of value to discrete manufacturers and enterprise businesses. The all new http://www.godlan.com hosts hundreds of pictures, how-to demonstration videos, industry White Papers, Executive Brief research papers, and ways to research. It features fully integrated social media for easy sharing, as well as event feeds for webinars and live events that prospects and customers can register for. Getting help or asking a question is easy by phone, email or through live chat.
With busy "on-the-go" executives in mind, the site is designed to present condensed topics followed by more expanded information, to make navigation easy. It is also accessible through a wider range of web browsers and devices, including mobile and tablets, and has been designed to meet all relevant accessibility standards.
The new website makes it easy to search topics based on industry micro-verticals such as Metal Fabrication, Furniture & Fixtures, Specialty Vehicle, Aerospace & Defense; or by solutions for job functions such as Advanced Planning, Product Configuration, Inventory Management, Document Management, Quality Control, and Business Intelligence.
Godlan was awarded North America SyteLine ERP Partner of the Year by Infor in 2011 and is an approved Infor Gold Channel Partner serving customers for 29 years. For more information, visit godlan.com or call 586-464-4400.
###
About Godlan, Inc.
Godlan is a leading manufacturing performance specialist that has been implementing integrated technology solutions since 1984. As an approved Infor Gold Channel Partner with a focus on Infor SyteLine ERP, Godlan supports the implementation of world-class processes and best practices throughout discrete manufacturing organizations. For more information about Godlan, its mobile application InSync Anywhere, or Infor SyteLine ERP manufacturing software demos, call 586-464-4400 or visit godlan.com.