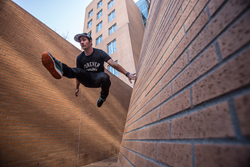 Being able to show the best friends I have in the world where I grew up is a privilege. It is also a chance to reconnect with my roots and appreciate how far I have come.
Detroit, MIchigan (PRWEB) April 17, 2015
The greater Detroit Metro area will be the eighth stop on the month-long North American "Off the Edge" Tour for 2013 Red Bull Art of Motion Champion and Davison Michigan native Cory DeMeyers, who dreamed of bringing his tour and his friends to his hometown. The tour is the brainchild of DeMeyers and best friend and #1 Parkour Youtube video blogger, Jesse La Flair, to not only make parkour and freerunning the most popular sport amongst teenagers and young adults, but to inspire them to get off the couch and exercise. On Saturday April 18th, their tour bus will arrive in DeMeyers' hometown. They will begin the day by screening their documentary "From Here to There" at the Emagine Entertainment Clio Square Cinema in Clio. From there, the team will head out to Riverbank Park in Flint where they will host an afternoon-long jam open to the public. Joining them are some of the top parkour names in the world including multiple Red Bull Art of Motion Champion Jason Paul from Germany, Team Farang founder Anan Anwar from Thailand and Instagram star and extreme freerunner Pasha "The Boss" Petkuns from Latvia.
"This is home!," exclaims DeMeyers. "Being able to show the best friends I have in the world where I grew up is a privilege. It is also a chance to reconnect with my roots and appreciate how far I have come. It makes me appreciate even more what I have accomplished. This is something that I try to impart upon all the kids I meet - I want them to appreciate where they come from and see their life as a journey full of challenges and obstacles that must be surmounted. It is exactly like Parkour. We get from point A to point B and we need to get over all the obstructions in between."
DeMeyers currently lives in Los Angeles where he is a member of one of the pioneering parkour team in the US — Tempest Freerunning. He is also a professional stuntman and stunt coordinator with recent work on "Ted 2" and "Mall Cop 2". DeMeyers and La Flair also produce their own highly succesful webseries on Youtube — Off the Edge — as well as commercials and shorts under the Concrete Collective LLC label.
"Hollywood is worlds away from Davison Michigan," explain DeMeyers. "But people are people no matter where you go, and I have been very lucky that through our sport I have met some of the most genuine, interesting and simply nice people you could ever imagine. I think this is something that is special about Parkour and Freerunning. The sport just seems to attract nice people!"
The "Off the Edge" Tour bus will arrive in the Flint area on Saturday April 18th, 2015. La Flair and DeMeyers, along with all athletes will hold a screening of the documentary "From Here to There", following La Flair and DeMeyer's European adventures leading to their podium victory at the 2013 Red Bull Art of Motion in Santorini Greece will be held at Emagine Entertainment - Clio Square Cinema at 11am (2151 West Vienna Road, Clio, MI 48420). Entrance to the movie is $15. Following the film the "Off the Edge" jam will be held at Riverbank Park from 2pm to 6pm (At the intersection of Garland Street and West First Avenue in Flint, MI). Admission to the jam is free and is open to the public.
For more information on the Jam and Screening for Detroit, click http://tinyurl.com/goingOTEDetroit
About Off The Edge:
The Off The Edge World Tour is the world's Largest Freerunning & Parkour tour. OTE was designed to be an interactive event that not only provides an engaging and exciting experience for its attendees, but also will continue to reach millions across the internet with its inspiring Youtube series. To find out more visit http://offtheedgeworldtour.com/ or follow them on https://www.facebook.com/goingOTE and Instagram- @GoingOTE
About From Here to There:
From Here to There is a documentary about friendship, freerunning and following your dreams. Jump into the lives of professional freerunners and best friends Jesse La Flair and Cory DeMeyers as they travel the globe and overcome the hardships of chasing their dreams in the fastest growing action sport in the world.
To find out more visit http://fromheretotherestore.com/ or follow them on https://www.facebook.com/fromheretotheredoc/timeline and Instagram- @fh2tdoc
Press contact:
ROCK Group PR +1 (305) 751-5085
Roch Nakajima roch(at)myrockgroup(dot)com
Alex Alvarez alexal(at)myrockgroup(dot)com
http://www.myrockgroup.com