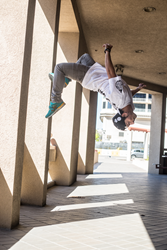 From Here to There was an opportunity to tell the personal story that doesn't always come through online.
Los Angeles, California (PRWEB) May 08, 2015
After fourteen cities and thousands of miles logged on their tour bus, 2013 Red Bull Art of Motion Champion, Cory DeMeyers, and #1 ranked YouTube video blogger, Jesse La Flair, will finally reach their destination and some well deserved rest, but not before one last blowout to celebrate what they have dedicated the past two years of their lives to — their passion for parkour and freerunning. For more than two years, the duo of professionals from Los Angeles' famed Tempest Freerunning team and academy have dedicated themselves to promoting the sport through their "Off The Edge" World Tour.
Since GoingOTE started in 2014, DeMeyers and La Flair have visited over 10 countries and two dozen cities. The first year of the tour was dedicated to Europe, which coincided the release of their Kickstarter funded documentary "From Here To There." The film followed the duo's bid to make it to the Red Bull Art of Motion world freerunning championship in Santorini, Greece — a bid they not only succeeded in accomplishing but winning. In 2015, they shifted their focus to North America and accompanied by some of the most famous freerunners in the sport, including Red Bull's Jason Paul, Pasha "The Boss" Petkuns, and Team Farang's founder, Anan Anwar, DeMeyers and La Flair undertook the job of reassessing and reconnecting with the US parkour and freerunning community.
"This has been an incredible adventure. Parkour and freerunning are bigger than ever in the US," explains La Flair. "From coast to coast, we not only see young kids flocking to the sport but people of all ages, including women. The sport has matured in a very short time and has grown roots across disciplines attracting all sorts from cross-fitters to obstacle course racers. We are seeing gyms open up everywhere and we do not have to explain what parkour is anymore! We truly have a strong and active community out there."
Throughout their travels, the GoingOTE team met with enthusiast and showcased their films at private screenings. Each screening of "From Here to There" was followed by an open question and answer forum.
"Our sport lives on the internet and as athletes we are constantly judged by our social media, From Here to There was an opportunity to tell the personal story that doesn't always come through online. I lived that story and I have seen people react to the story, and its positively affecting the lives of others!" says DeMeyers. "There are highs and lows, success's and failures, but that is what life is all about… all of those experiences. The movie is a slice of my life along with Jesse's and those of a lot of our friends. This film is not only for parkour people, it is for everyone. We want as many people to see it as possible so that they will have a better understanding of what this sport is and what it is really all about! Our story is one of friendship and the pursuit of our passions; the trials, tribulations and triumphs along the way. I have learned so much during this journey and I use the example of those experiences as a teaching tool in all the discussions we have after each screening."
The entire GoingOTE and Tempest Freerunning Team invites you to join them and make advance reservations for a unique extravaganza of parkour and freerunning. On Saturday May 16th, DeMeyers, La Flair and the Tempest crew will hold a special jam at Tempest Academy South Bay from 1pm tp 5pm (3337 Jack Northrop Ave, Hawthorne, California 90250)
Ages 9 years old & up can participate, $30 entry fee for #FH2TDoc movie ticket holders, $50 entry without movie ticket.
Then join the entire Los Angeles parkour and freerunning stardom for the premiere of "From Here to There" at the city's most glamorous and sexy screening venue — the Theater at Ace Hotel (929 South Broadway, Los Angeles, CA 90015, (213) 623-3233). Pre-purchase tickets are recommended as they are selling out quickly. Go to Tinyurl.com/Fh2tdocLA to purchase. Celebrities will be in attendance.
For more information on the Jam and Screening for Los Angeles
For the Screening (RESERVE NOW) Tinyurl.com/Fh2tdocLA
For the Jam (RESERVE NOW) Tinyurl.com/GoingOTELA
About Off The Edge:
The Off The Edge World Tour is the world's Largest Freerunning & Parkour tour. OTE was designed to be an interactive event that not only provides an engaging and exciting experience for its attendees, but also will continue to reach millions across the internet with its inspiring Youtube series. To find out more visit http://offtheedgeworldtour.com/ or follow them on https://www.facebook.com/GoingOTE and Instagram- @GoingOTE
About From Here to There:
From Here to There is a documentary about friendship, freerunning and following your dreams. Jump into the lives of professional freerunners and best friends Jesse La Flair and Cory DeMeyers as they travel the globe and overcome the hardships of chasing their dreams in the fastest growing action sport in the world.
To find out more visit http://fromheretotherestore.com/ or follow them on https://www.facebook.com/fromheretotheredoc/timeline and Instagram- @fh2tdoc
Press contact:
ROCK Group PR +1 (305) 751-5085
Roch Nakajima roch(at)myrockgroup(dot)com
http://www.myrockgroup.com