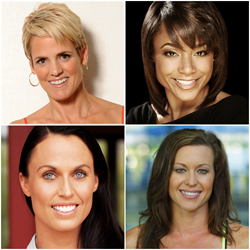 These influential women have 20+ Olympic medals, been seen on TV by over 6 billion viewers and represented some of the most respected brands in the world. Gold Medal Moms is a winner in 2016! - Evan Morgenstein
Cary, NC (PRWEB) November 30, 2015
Olympic Gold Medalists and Celebrity Moms Dara Torres, Dominique Dawes, Amanda Beard and Brooke Bennett are collaborating with brands across various categories through traditional and social media marketing campaigns and other branding initiatives.
These four influential figures make up an elite group of Gold Medal Moms who can connect with today's most important consumer: mothers. In addition to their work as celebrity spokespeople, Dara, Dominique, Amanda and Brooke are also world-renowned keynote speakers who use their story to motivate others at women's conferences, fundraisers and corporate functions.
PMG Sports President and CEO Evan Morgenstein commented, "These influential women have 20+ Olympic medals, been seen on TV by over 6 billion viewers and represented some of the most respected brands in the world. Gold Medal Moms is a winner in 2016!"
12-time Olympic Medalist Dara Torres proved that age was truly just a number when she became the oldest American ever to compete in the Olympics at 41-years-old. Her unmatched physical fitness has made her a role model for women of all ages trying to stay in shape and she is currently a featured co-host on the CBS Gracie Award-winning sports talk show We Need to Talk. A mother to 3, Dara understands what it means to be a positive role model not only for her fans but also for her kids.
Dominique Dawes is a retired Olympic icon who is recognized as the first African-American to win an Olympic Gold Medal in gymnastics. She was a part of the famed Magnificent Seven in 1996 and now serves as the co-chair of the President's Council on Fitness, Sports & Nutrition with NFL star Drew Brees. Now a mother of 2, Dominique has perfected the art of the working mom!
At just 14-years-old, Amanda Beard became the second youngest Olympic Medalist in American swimming history when she won one Gold and two Silver Medals at the 1996 Olympic Games. She competed in 4 total Olympics and has since published a New York Times bestselling memoir describing her personal growth through the stress and pressures of being an elite athlete and celebrity personality. Amanda is a mother of 2 who has plans to open her own swim school for kids in 2016.
3-time Gold Medalist Brooke Bennett is known as one of the greatest female long distance swimmers in American history. After the Olympics, Brooke followed her passion for sports to become a sports broadcaster for Bright House Sports Network in Florida. She is a certified personal trainer and nutritionist who welcomed her first child in October of 2014. Brooke currently operates her own swim academy in Florida and is an active advocate of swim and water safety for kids.
To discuss potential opportunities for personal appearances or endorsement campaigns with the Gold Medal Moms, please contact Evan Morgenstein at evan(at)pmgsports(dot)com or call (919)459-5426. For media inquiries please contact Matt Uberseder at matt(at)pmgsports(dot)com or call (919)459-5428.
About Premier Management Group (PMG Sports)
Premier Management Group is an elite sports marketing agency with a goal to create a space in the industry that is completely unique through superior creativity and innovation. PMG has set out to provide each of its clients with the same level of professional representation and service. Additionally, PMG is an industry leader in providing corporate consulting services and treats each client, whether an athlete or corporation, with an added personal touch. For more information, visit our website at http://www.pmgsports.com.