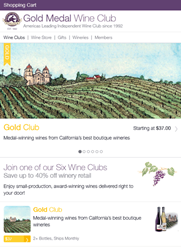 Adhering to the modern web standards, the site runs flawlessly on all mobile devices due to its responsive design accommodating any and all screen sizes.
Santa Barbara, California (PRWEB) November 16, 2015
Gold Medal Wine club stayed true to their Gold Medal standard by rolling out a sleek new website design with enhanced mobile device compatibility. With 23 years of commitment, and being an independent wine leader, it recognized the need for a major site revamp to better serve all wine enthusiasts as well as all of their wine club members.
The site now features an entirely new look that utilizes a user-friendlier interface supported by easier navigation. It also boasts faster & heightened usability for smartphones. Although members could purchase items from their smartphones in the website's previous iteration, the new site builds upon functionality. This revamp enhances the ability to browse and directly buy wine club memberships, gifts, and highly rated and award-winning wines across multiple mobile platforms including the leading Apple and Android devices.
Clean lines and light colors allow Gold Medal Wine Club to keep the focus of their site where it should be: on the wines. Wine club promotions and offerings are clearly highlighted on the homepage, and information for individual wineries is located on the top navigation bar. The site allows new and returning members to quickly find what they're looking for while creating an atmosphere befitting of a leading wine club.
Adhering to the modern web standards, the site runs flawlessly on all mobile devices due to its responsive design accommodating any and all screen sizes. A crucial advantage is an elevated user experience. Few other innovative features include:

Faster checkout & faster site speed
Sticky navigation and shopping cart for easy accessibility
Super Search for quick and relevant results
More images for a better visual feel
About Gold Medal Wine
Gold Medal Wine Club has provided club members and other shoppers with highly-rated, rare wines since its foundation in 1992 as an independent wine club; the company only offers boutique wines that have won medals, earned awards, or garnered other accolades and recognition. The company's six Wine Club series and online wine store feature wines from California and around the world, available at affordable prices with discounts as high as 40 percent off in-store retail prices. To learn more and truly experience the new holistic site, please visit https://www.goldmedalwineclub.com/