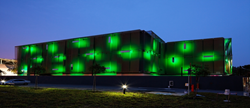 Goldbroker.com is one of the first companies to allow investors to own and store 100% allocated gold and silver bars
Singapore (PRWEB) April 23, 2014
Goldbroker.com is an investment platform that allows investors to own and store physical gold and silver outside the banking system.The company was created in 2011 by Fabrice Drouin Ristori. In 2012, Egon von Greyerz, a renowned gold market specialist and founder of Matterhorn Asset Management, joined the Goldbroker.com board.
Goldbroker.com is one of the first companies to allow investors to own and store 100% allocated gold and silver bars, directly and in their own names, starting with a minimum order as low as 5 oz of gold. The storage certificate is issued in the name of each client, which proves there is no intermediary between the clients and their physical gold or silver. In this respect, the service is different from other mutualised gold offerings.
New Storage Facility in Singapore
Goldbroker is expanding his storage services by offering, starting in May 2014, the possibility of storing precious metals in Singapore, a major financial hub in Asia for storing and trading physical gold.
These new services are identical to those offered in Switzerland. Annual management fees are the same as those for storage in Switzerland.
New Products :
The company is also expanding its range of available products to include, on top of ingots and bars, 1oz Krugerrand and Maple Leaf gold coins, and 1oz Maple Leaf silver coins.
Click here to see the complete list of the products.
New Minimum Investment Amount :
And finally, the latest evolution : this investment solution is now available to investors starting as low as 5 oz of gold, worth approximately a little under $7,000 today.