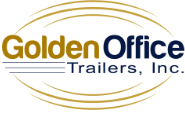 Lake Elsinore, Ca (PRWEB) April 01, 2015
Golden Office Trailers, a leading company in the business of selling, leasing and renting mobile office trailers in Southern California, is celebrating its 40th year in business. The company was founded in 1975 by Hal Woods, and continues to be owned and operated by the Woods family to this day.
Prior to starting the company, Mr. Woods purchased the property in Lake Elsinore on which the business still sits today. Over the decades, the company has purchased adjacent properties in order to expand the business and allow for storage of Golden Office Trailer's expanding fleet of mobile offices.
Over their 40 years in business, Golden Office Trailers has served thousands of Southern California customers and currently has a fleet of over 500 units, ranging in size from 8 x 16' single wide units up to 48 x 60' multi complex trailers.
In addition to being a family owned and operated business, Golden Office Trailers has multiple employees that have been with the company for more than 25 years each. In fact, the average employee of Golden Office Trailers has been working with the company for more than 12 years.
Since their founding in 1975, Golden Office Trailers has earned and maintained a respectable, dependable and reliable reputation in the industry and in the community. They are members of both the Lake Elsinore Valley and Wildomar Chambers of Commerce. They also participate in local charitable events, such as the American Cancer Society's Relay for Life. Mr. Woods and his staff raise money and walk in the event every year, and also donate an office trailer to help with event registration.
About Golden Office Trailers
Established in 1975, Golden Office Trailers is located in the heart of the Inland Empire and services all of Southern California, including Los Angeles, Riverside, Orange, San Diego, Imperial and San Bernardino Counties, as well as the Upper and Lower Deserts. They are experts in solutions for temporary and permanent office space in the construction, education, healthcare, real estate, auto sales, engineering, government and industrial industries. Find out more about Golden Office Trailers at http://www.goldenofficetrailers.com.