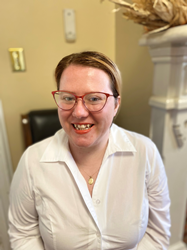 FREDERICK, Md. (PRWEB) October 04, 2021
The Golden Mile Alliance, a local nonprofit, is proud to announce welcoming Ashley Bennett as their new Operations Coordinator. Ashley will be responsible for managing and supporting special events, fundraising, social media and providing operations and administrative support to the organization and its non-profit board of directors.
Ashley brings 7 years of nonprofit experience to the organization, including both direct service and nonprofit leadership experience. Ashley is actively involved in the Frederick community and volunteers with numerous organizations. Ashley has lived in Frederick since 2010 and is a graduate of Hood College.
The Golden Mile Alliance's mission is to drive the Golden Mile area to be a welcoming, economically strong, and desirable commercial and residential community.
The GMA achieves its mission through their economic development activities to support the Golden Mile businesses and residential communities so they can continue to thrive. From top-notch businesses and offices to family-friendly neighborhoods and parks, their goal is to highlight and support the great purpose the Golden Mile holds for our city.
Their vision is that the Golden Mile is a vibrant, diverse, and accessible premier destination for shopping, dining, living, recreation, and commerce in Frederick.
For volunteer opportunities and more information on the Golden Mile Alliance, go to http://www.goldenmilealliance.org.