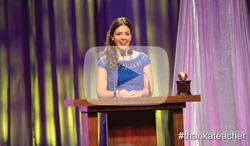 I became a teacher because I wanted to be an advocate for students who have experienced the kind of struggles I've experienced.
Chicago, IL (PRWEB) November 26, 2014
During this week of Thanksgiving, the Golden Apple Foundation is reflecting on that for which we can all be thankful -- the amazing adults who dedicate their lives to shaping a brighter future for our children every day -- Teachers!
In addition to saying "thank you" to teachers for all they do to inspire, motivate and support students, Golden Apple has created an inspirational video of a recipient of the 2014 Golden Apple Award for Excellence in Teaching, Madeline Kobayashi. In the video, Kobayashi describes her journey as a young student, what motivated her to become a teacher and why the profession is so important to the future of society. As a gesture of gratitude and to inspire others, Golden Apple invites everyone who values teachers to share the video link with others via social media using #thankateacher to spread the word.
Kobayashi grew up in Chicago, where she attended six different Chicago Public Schools. She estimates that during her CPS career, she missed up to 40 days of school a year, which made school very challenging. "Moving around so much, it was hard to figure out if I mattered," said Kobayashi. "It took a long time to realize that I do matter, and I needed to go back and tell kids, 'You matter too.'"
A champion for her students, Kobayashi said she became a teacher because she wanted to be an advocate for students who have experienced the kind of struggles that she experienced. "I want to help students realize that they have a voice," she said.
Kobayashi, like so many excellent teachers throughout the country, said she answered the call of teaching because she knows how important the work is, and believes in her heart that she is the one to do it. "We're tired of hearing about what our kids can't do. We know our kids can and will."
To hear more about Kobayashi's story and join the "Give Thanks" conversation about exceptional teachers, visit http://www.goldenapple.org.
About Golden Apple
Celebrating its 29th anniversary, Golden Apple began with founders Mike and Pat Koldyke and a shared inspiration-to offer outstanding schoolteachers a level of recognition and engagement in the larger work of education reform. Golden Apple's successful track record of integrated, innovative programs and resources enhance the quality, resiliency and creativity of classroom teachers and improve teaching and learning throughout Illinois. Qualified, passionate educators-including Golden Apple Award recipients and finalists-lead a small staff of dedicated employees with functional and program expertise. A connected and committed board of directors oversees Golden Apple's strategic direction. Together with a larger community of expert educators, this nonprofit organization works to ensure that all Illinois children have the excellent teachers they deserve, particularly within schools of need. Visit http://www.goldenapple.org for more information.